Fat Angie: Homecoming (Hardcover)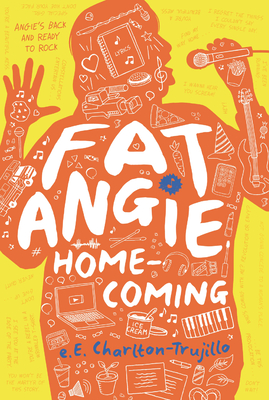 Description
---
With unexpected internet fame, two people vying for her heart, an all-girl band, and coming to terms with her parents' failures, Angie comes home to herself in a rewarding finale.

After hitting the road with her friends last summer and taking the stage to sing her heart out in Columbus, Angie finally feels like she's figuring things out. And her next move? Finally asking Jamboree Memphis Jordan to be her girlfriend. Angie's got her speech ready on a set of flash cards, but her plans are complicated when her first love, KC Romance, comes cruising back into town. And when a video of Angie's Columbus performance goes viral, everything gets even more confusing. Kids at school are treating her with respect, she's being recognized in public, and her couldn't-be-bothered mother is . . . well, bothered is an understatement.

When she learns of an online music competition, Angie decides to start a band. With the help of her brother, Jamboree, and her town's resident washed-up rock star, Angie puts together a group and gets busy writing songs, because the competition deadline is only two weeks away. Between sorting out her feelings for Jamboree and KC, dealing with her newfound fame, and dodging an increasingly violent and volatile mother, singing seems like the only thing that Angie's really good at. Can her band of girl rockers actually win? More importantly, can Angie get it together before she loses all sense of herself yet again?
About the Author
---
e.E. Charlton-Trujillo is an author and filmmaker. Their novels have received a Stonewall Book Award and a Parents' Choice Silver Honor. Their passion to inspire underserved youth through story was featured in the documentary At-Risk Summer. A popular speaker at book festivals, educator conferences, and schools, e.E. Charlton-Trujillo is also the cofounder of the nonprofit Never Counted Out. e.E. Charlton-Trujillo lives in California.
Praise For…
---
Angie's love of her fat, beautiful body is refreshing, and her relationships with her friends and family feel nuanced and real. . . A lively, heartfelt, and ultimately satisfying trilogy closer.
—Kirkus Reviews

The characters are diverse and realistic, and their conversations are a star of the book, both propulsive and straightforward. . . Fat Angie: Homecoming is a celebration of friendship, love, and figuring out who you really are.
—Foreword Reviews

Just like a rock ballad, Fat Angie: Homecoming is an ode to power and finding your strength after the hardest parts of life. Both heartbreaking and heart-lifting, devastating and hilarious, Angie's story proves that, even if what we have to say is difficult, there is no greater freedom than singing your truth.
—Jason June, author of Jay's Gay Agenda

This is a book for anyone who has ever struggled to find their place in the world. Expertly navigating the intricacies of queer love and heartbreak, friendships, grief, and the redemptive magic of creativity, e. E. Charlton-Trujillo has crafted a diverse, inclusive, and deeply empowering story full of humor, heart, and authenticity.
—Amber Smith, New York Times best-selling author of The Last to Let Go and Something Like Gravity