What Are Words, Really? (Hardcover)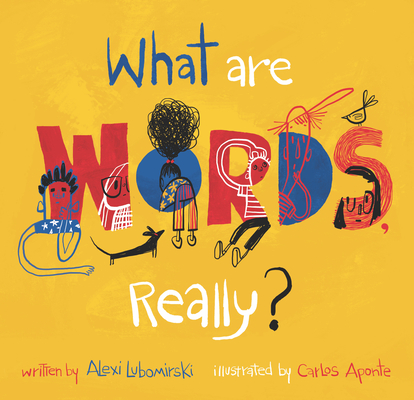 $17.99

Usually arrives at our store within 4-7 days
Description
---
A renowned photographer and a Pura Belpré Honor–winning illustrator join forces for a playful and stylish picture book that's destined to make the world a better place, one word at a time.

Perfectly pitched to the youngest child, Alexi Lubomirski's whimsical text is a gentle reminder that words have power—the power to hurt or to heal, to make someone feel small or feel tall. Carlos Aponte's buoyant illustrations, in dazzling primary colors and bold black line, pair with a dynamic text design to create a visual symphony. An eye-catching appeal to our better natures, this inspired meditation on the purpose and power of words encourages children to choose them well—and use them wisely—to spread kindness, joy, and love.
About the Author
---
Alexi Lubomirski is the author of the parenting book Princely Advice for a Happy Life and the picture book Thank You for My Dreams. He is a world-renowned fashion and celebrity photographer who has worked for Vogue, Elle, and Harper's Bazaar, among other major magazines, and who shot the official engagement and wedding portraits for Prince Harry and Meghan, Duchess of Sussex. He lives in New York.

Carlos Aponte is the author-illustrator of the Pura Belpré Illustrator Award Honor Book Across the Bay. His artwork has appeared in numerous publications, including the New Yorker, the Washington Post, the New York Times, Elle, and Esquire. He is a faculty member at the Fashion Institute of Technology and lives in New Jersey.
Praise For…
---
An eminently useful title for sparking conversations with children about how positive self-talk can transform one's perspective and how kind words can empower others. It will also invite reflections on the need for sensitivity and kindness in communicating with others. . . . Words and pictures really worth sharing.
—Kirkus Reviews

Text and illustration are inseparable in this book that encourages readers to think about the power of words—the ones they think to themselves, and the ones they say out loud. . . . The limited color palette—primary colors plus black and white—is bold and effective, and there are plenty of interesting visuals woven throughout.
—School Library Journal

Offers a reminder of how words can bring you up or down—especially two four letter words: love and hate. Akin to a visual pep talk, this book will complement SEL topics in libraries or classrooms, whether the message reinforced is to build confidence in oneself or to be kind to others. Award-winning illustrator Carlos Aponte uses bold graphics in primary colors to illustrate the message.
—School Library Connection

This bold, bright ode to the power of words blends colorful art with the words themselves. The message is that words matter, and choosing the best and kindest ones makes a difference. . . . Using kind words for yourself and others is 'like a magical spell' that brings light to the world — and this sunny book encourages readers to do just that.
—The Virginian Pilot