The Little Match Girl Strikes Back (Hardcover)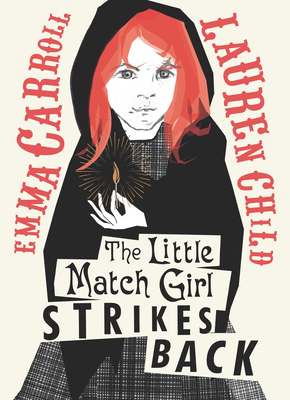 Description
---
It only takes one strike . . . A powerful, beautifully illustrated feminist reworking of the classic fairy tale, from award-winning creators Emma Carroll and Lauren Child

"You've got a lot to say for a little match girl."

On the streets of Victorian London, Bridie uses her wit selling matches to help feed her family—but no matter how hard she works, it's never enough to stave off hunger or keep her ailing mother safe from the factory's toxins. When a street-side accident leaves Bridie with only three matches, the strike of each one sends her magically tumbling into visions of a brighter, more hopeful future. Realizing she has the power to change her own fortune, Bridie urges the ill-treated factory workers to protest and strike, achieving something remarkable through unity and courage. A far cry from the doomed little girl in Hans Christian Andersen's classic tale, Emma Carroll's spirited heroine brings new life to this empowering retelling, inspired by historical events and featuring Lauren Child's bold, stylish black-and-white artwork with vivid spots of red. Author and illustrator notes, along with vintage photographs, offer enlightening context for readers at the end.
About the Author
---
Emma Carroll is a multi-award-winning author with a background as an English teacher. Her stories are often magical and always led by a cast of impressive female characters. "It didn't seem fair to me that the match girl dies in the end," she says of the original fairy tale. "So I decided to write my own version, where she has a name, a loving family, and her own hopes and dreams." Emma Carroll lives with her husband and two terriers in the Somerset hills of England.

Lauren Child has authored and illustrated many picture books, including The New Small Person, Absolutely One Thing, and A Dog with Nice Ears, as well as the Charlie and Lola, Ruby Redfort, and Clarice Bean series. She has won numerous awards, including the prestigious Kate Greenaway Medal. She says The Little Match Girl Strikes Back "beautifully merges fairy tale with fact, delivering a piece of history that has real resonance for us today." Lauren Child lives in London.
Praise For…
---
Bridie is an energetic, likable narrator, and it's satisfying to follow her quick-moving adventures. . . The gritty East End snaps to life in Lauren Child's textured illustrations. Modeled on period photographs, they mix gray and black patterns with bursts of telltale red: Bridie's hair, a candle flame, the bow on a Christmas wreath. . . . It's the right message not just for 1888 but for 2023, with workers once again taking to the picket lines to demand a fair deal.
—The New York Times Book Review

This retelling of a Hans Christian Andersen tale casts the little Matchstick Girl as a social reformer. . . . Artwork throughout includes creative typographic styling and black-and-white illustrations with pops of red for Bridie's hair and match flames. An author's note reveals the factual basis of the story.
—Kirkus Reviews

Information about the devastating effects of white phosphorous on workers' health and the effectiveness of collective action to implement change are woven into a brief and engaging story led by a charismatic heroine. Child (the Clarice Bean series) provides b&w illustrations accented by a fiery red that bring Bridie vividly to life.
—Publishers Weekly

In this British import, Carroll skillfully transforms Hans Christian Andersen's "The Little Match Girl" into an entry point to labor history via the London matchgirls' strike of 1888. . . Child's illustrations emphasize Bridie's snap and spark with scratchy black lines and bold, stylized pops of fire red. . . . Older readers and fans of the Enola Holmes films will quickly twig to the factory working conditions and discussions of workers' rights leading up to the strike, though this engaging tale is accessible to a wide audience.
—The Bulletin of the Center for Children's Books

The conclusion is not only more satisfying than the original, but more authentic. Stylized black-and-white illustrations use accents of red to punctuate the action, creating an open and accessible format for a surprisingly timely look at workers' actions. . . . This sophisticated tale is likely to generate conversation in school and public libraries about 19th-century factory working conditions.
—School Library Journal

Carroll takes the story of this significant event in labor history and uses it as the armature for her own version of Hans Christian Andersen's weeper. . . The mash-up of history and Andersen-tale works beautifully, especially on the metaphorical level with light, enlightenment, warmth, and energy battling it out against darkness, ignorance, chill, and despair. Child's illustrations, collages in black, gray, and red with a rich use of pattern, incorporate text at certain points to create an arresting, graphically dynamic page.
—The Horn Book