The Greatest Cult Television Shows of All Time (Hardcover)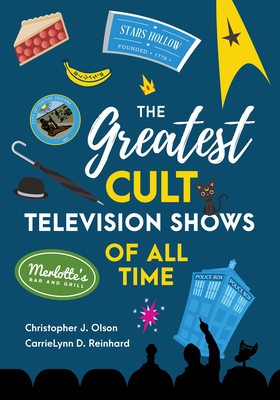 This item is not available.
Description
---
Reaching back to the beginnings of television, The Greatest Cult Television Shows offers readers a fun and accessible look at the 100 most significant cult television series of all time, compiled in a single resource that includes valuable information on the shows and their creators. While they generally lack mainstream appeal, cult television shows develop devout followings over time and exert some sort of impact on a given community, society, culture, or even media industry. Cult television shows have been around since at least the 1960s, with Star Trek perhaps the most famous of that era. However, the rise of cable contributed to the rise of cult television throughout the 1980s and 1990s, and now, with the plethora of streaming options available, more shows can be added to this categorization Reaching back to the beginnings of television, the book includes such groundbreaking series as The Twilight Zone and The Prisoner alongside more contemporary examples like Crazy Ex-Girlfriend and Hannibal. The authors provide production history for each series and discuss their relevance to global pop culture. To provide a more global approach to the topic, the authors also consider several non-American cult TV series, including British, Canadian, and Japanese shows. Thus, Monty Python's Flying Circus appears alongside Sailor Moon and Degrassi Junior High. Additionally, to move beyond the conception of "cult" as a primarily white, heteronormative, fanboy obsession, the book contains shows that speak to a variety of cult audiences and experiences, such as Queer as Folk and Charmed. With detailed arguments for why these shows deserve to be considered the greatest of all time, Olson and Reinhard provide ideas for discussion and debate on cult television. Each entry in this book demonstrates the importance of the 100 shows chosen for inclusion and highlights how they offer insight into the period and the cults that formed around them.
About the Author
---
Christopher J. Olson is pursuing his PhD in Media, Cinema, and Digital Studies at the University of Wisconsin - Milwaukee. Previously, he worked as an Adjunct Professor at Dominican University in River Forest, IL, where he taught classes on masculinity and interracial communication. He is the co-author of Possessed Women, Haunted States: Cultural Tensions in Exorcism Cinema (Lexington, 2016) and co-editor of Making Sense of Cinema: Empirical Studies into Film Spectators and Spectatorship (Bloomsbury, 2016) and Heroes, Heroines, and Everything in Between: Challenging Gender and Sexuality Stereotypes in Children's Entertainment Media. Olson is also the author of 100 Greatest Cult Films (Rowman & Littlefield, 2018). CarrieLynn D. Reinhard is an Associate Professor in Communication Arts and Sciences at Dominican University near Chicago, Illinois. She co-created The Pop Culture Lens podcast and helped found the Professional Wrestling Studies Association. Reinhard is the co-author of Possessed Women, Haunted States: Cultural Tensions in Exorcism Cinema (with Christopher Olson) and author of Fractured Fandoms: Contentious Communication in Fan Communities (Lexington, 2016)