Essential Supreme Court Decisions: Summaries of Leading Cases in U.S. Constitutional Law, Eighteenth Edition (Paperback)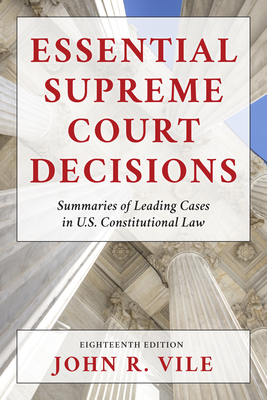 This item is not available.
Description
---
The only reference guide to Supreme Court cases organized both topically and chronologically within chapters so that readers understand how cases fit into a historical context, the 18th edition has been updated with 20 new cases, including landmark decisions on such topics as executive powers, federalism, religious freedom, free speech, LGBTQ rights, and voting rights, among others. Updated through the end of the 2021 Supreme Court session, this book remains and indispensable resource for undergraduate and law school students, lawyers, and everyone interested in our nation's laws and Constitution.
About the Author
---
John R. Vile is professor of political science at Middle Tennessee State University. He is the author or editor of numerous books on political science and constitutional law, including Encyclopedia of the First Amendment, The Encyclopedia of Constitutional Amendments, and A Companion to the U.S. Constitution and Its Amendments.