Sarahland (Hardcover)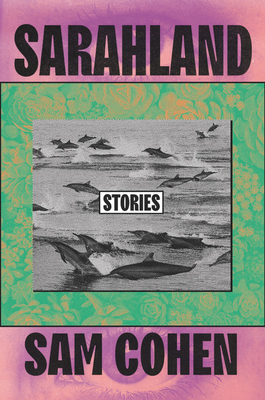 Description
---
"Queer, dirty, insightful, and so funny" (Andrea Lawlor), this coyly revolutionary debut story collection imagines new origins and futures for its cast of unforgettable protagonists—almost all of whom are named Sarah.

FINALIST FOR THE GOLDEN POPPY AWARD FOR FICTION 

NAMED A MOST ANTICIPATED BOOK OF 2021 BY THE MILLIONS * OPRAH MAGAZINE * LAMBDA LITERARY * ELECTRIC LITERATURE * REFINERY29 * COSMO * THE ADVOCATE * ALMA * PAPERBACK PARIS * WRITE OR DIE TRIBE * READS RAINBOW

In Sarahland, Sam Cohen brilliantly and often hilariously explores the ways in which traditional stories have failed us, both demanding and thrillingly providing for its cast of Sarahs new origin stories, new ways to love the planet and those inhabiting it, and new possibilities for life itself. In one story, a Jewish college Sarah passively consents to a form-life in pursuit of an MRS degree and is swept into a culture of normalized sexual violence. Another reveals a version of Sarah finding pleasure—and a new set of problems—by playing dead for a wealthy necrophiliac. A Buffy-loving Sarah uses fan fiction to work through romantic obsession. As the collection progresses, Cohen explodes this search for self, insisting that we have more to resist and repair than our own personal narratives. Readers witness as the ever-evolving "Sarah" gets recast: as a bible-era trans woman, an aging lesbian literally growing roots, a being who transcends the earth as we know it. While Cohen presents a world that will clearly someday end, "Sarah" will continue.

In each Sarah's refusal to adhere to a single narrative, she potentially builds a better home for us all, a place to live that demands no fixity of self, no plague of consumerism, no bodily compromise, a place called Sarahland.
About the Author
---
Sam Cohen was born and raised in suburban Detroit. Her fiction is published in Fence, Bomb, Diagram, and Gulf Coast, among others. The recipient of a MacDowell fellowship and a PhD fellow at the University of Southern California, Cohen lives in Los Angeles.
Praise For…
---
"A bold collection that explores how we might break free from or reimagine ourselves and our places in the universe."—
Kirkus, starred review
"Cohen cleverly reimagines the world through a queer lens and uses pop culture and fairy tale references to illustrate the various lives, stories, and worlds the Sarahs can inhabit. A thought-provoking work, Cohen's collection surprises and excites."—
Publishers Weekly
"[SARAHLAND is] an ambitious work, to be sure, but the structural leaps it takes are more than earned, and Cohen's prose is something to be celebrated all on its own.—
Vogue
"I loved
Sarahland
. Like the best fiction, it both articulated and deepened what were for me previously unspeakable, but urgent mysteries, including why feminine and/or feminist utopias are always half-beautiful, half-grotesque; how the world ends; and where American class aspiration and the quest for freedom meet, which is to say, what a Jewish girl from the suburbs who wants out is chasing, what she's fleeing, and how far she can really get."—
LA Review of Books
"Sam Cohen's stories re-wire the brain. Enter into this multiverse of Sarahs you didn't know you knew, and you'll come out the other end thinking only in Sarahs, only of Sarahs.
Sarahland
is satisfyingly queer, dirty, insightful, disarmingly generous, astonishing in its craftsmanship and so funny. Easily one of my favorite collections of short fiction ever!"—
Andrea Lawlor, author of Paul Takes the Form of a Mortal Girl
"Reading SARAHLAND is pure pleasure - what a voice! What a constant flow of funny and vulnerable and distinct awarenesses! Sam Cohen's writing is joyously itself and places its own keen, insightful gaze on the ways we relate to ourselves and to others."—
Aimee Bender, author of The Particular Sadness of Lemon Cake
"[E]ccentrically inventive...[a]part from the heroines' shared name, what really unites these wondrous pieces is Cohen's prose, as vibrant and unruly as lipstick smeared after a wild night out."—
Oprah Magazine
"The tilted, weird world of SARAHLAND is nothing short of revolutionary. Cohen gives a polyphonic voice and a kaleidoscopic face to the exuberant possibilities of modern identity. Hilarious and groundbreaking, I felt bereft when I finished reading, sad to leave the sealed brilliance of Cohen's whirring brain. Every story in SARAHLAND is outrageously smart, every line of prose unabashed, surprising, and blistering with style."—
Kimberly King Parsons, author of the National Book Award long-listed collection Black Light
"[
Sarahland
] provides a search for self within every story, showing there is more to life than our own personal narratives."—
Lambda Literary
"
Sarahland
is weird, wonderful, and unforgettable."—
Advocate
"This provocative and thoughtful essay collection tackles issues of identity and sexuality as told through the various lives and stories of different Sarahs, from a Buffy aficionado to a Bible-era trans woman. Packed with wit, insight, and humor,
Sarahland
is a perceptive debut that will have you ruminating long after you finish the final page."—
BookRiot
"From a fanfiction author to an entity that has passed into something beyond humanity, the Sarahs of
Sarahland
linger in the mind."—
Bustle
"I'm deeply struck by the emotional wisdom, the cultural smarts, the literary vulnerability and serious skills happening in SARAHLAND. Rarely do I feel so seen by a book. I gobbled this work up with feverish excitement and gratitude, and weeks later feel like I am carrying these stories around in my head and in my heart."—
Michelle Tea, author of Against Memoir
"Cohen handles her sentences, her Sarah's, both gently and confidently. The result: a debut of equal parts ugly and beauty, a debut full of heartbreakingly real characters." —
Jean Kyoung Frazier, author of Pizza Girl
"A spectacle of dazzling, hilarious details comprise the worlds of these stories. SARAHLAND illuminates, in bright neon, the pain and challenge and joy and triumph of forming and reforming identity and community. I felt every moment of this book deeply."—
Jac Jemc, author of False Bingo and The Grip of It
"Sam Cohen's SARAHLAND is a potent revelation. Reading these stories feels like the ground shifting, the world cracking open, and viewing this magical transformation with brand-new eyes. This is a gift that that only brilliant writers like Cohen can give us; fiction that shines a bright light on how we live but, more important, how we could, if only someone would illuminate how. Cohen does this, shatters the suppositions of gender and sexuality with all her Sarahs, bright lights that show us the way."—
Dana Johnson, author of In the Not Quite Dark and Elsewhere, California
"Lucid, provocative, and endlessly surprising. . .Cohen challenges preconceived ideas of how we become the people we are, what it means to define ourselves, and how it is possible, and preferable, to break free from the compromises we make to fit into a world that wants to label us without really seeing us."—
Refinery29
"
Sarahland
is still just a ton of fun to read—at turns thought-provoking, funny, strange and exhilarating. With
Sarahland
, Cohen has asserted herself as a worthy contemporary of Ottessa Moshfegh, Elif Batuman and Carmen Maria Machado."—
PureWow
"Sam Cohen's debut collection has much to offer readers no matter their matronymic."—
Chicago Review of Books
"Each Sarah is a revitalization of how stories are told and how our stories as humans shape us. Cohen showcases how unbelievably unique and talented she is. Her mind offers stories we seem to be familiar with but allows them to stretch to unexpected places."—
Debutiful
"At times cheeky and tender, this debut short story collection pushes boundaries of identity and origin, queerness and community. Richly detailed, the collection features main characters who are mostly named Sarah."—
Ms. Magazine
"Sam Cohen's debut book of short stories is an expansive multiverse in which various iterations of a Sarah slide their fingers in the grimy mulch of being, sifting through, eating, and vomiting out what they find there."—
Bomb Magazine
"The book unabashedly celebrates female empowerment and queerness, guiding its characters through friendships and romances between women. Through their personal ups and downs, they broaden their curiosity and understanding of their worlds."—
Spectrum Culture
"
Sarahland
is a uniquely premised collection successfully corralling a varied assortment of ideas into a singular, unified statement…The stories themselves push the expectations of storytelling, venturing into the fantastical. Cohen embraces the bizarre, and often leverages it against the ordinary."—
Chicago Review of Books
"When viewed as a whole, Cohen's collection is a unique, special experience, like being queer and speaking to a queer person for the first time in your life. Exciting, intimidating, and overwhelming, Sarahland is a book that makes you happy because it exists."
—
Paperback Paris