Walter Ralegh: Architect of Empire (Hardcover)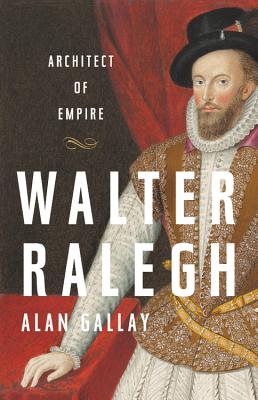 $40.00

Usually arrives at our store within 4-7 days
Description
---
From a Bancroft Prize-winning historian, a biography of the famed poet, courtier, and colonizer, showing how he laid the foundations of the English Empire

Sir Walter Ralegh was a favorite of Queen Elizabeth. She showered him with estates and political appointments. He envisioned her becoming empress of a universal empire. She gave him the opportunity to lead the way.

In Walter Ralegh,Alan Gallay shows that, while Ralegh may be best known for founding the failed Roanoke colony, his historical importance vastly exceeds that enterprise. Inspired by the mystical religious philosophy of hermeticism, Ralegh led English attempts to colonize in North America, South America, and Ireland. He believed that the answer to English fears of national decline resided overseas -- and that colonialism could be achieved without conquest. Gallay reveals how Ralegh launched the English Empire and an era of colonization that shaped Western history for centuries after his death.
About the Author
---
Alan Gallay is the Lyndon B. Johnson chair of United States history at Texas Christian University and the author of several books including The Indian Slave Trade, which won the Bancroft Prize. Gallay lives in Fort Worth, Texas.
Praise For…
---
"Raleigh's insistence on intellectual liberation, even
within the walls of the world's most famous prison, is what lingers after
reading Gallay's masterfully researched biography. He was, we learn, a free
spirit in the truest sense and not such a loser after all."—Washington Examiner

"Gallay has
crafted a richly detailed portrait of a courtier, poet, author and alchemist
who, he argues, should inspire readers to approach history from a different
angle. Rather than teleology, or "reading history backward from what occurred
at its end," we'd do well to start from the beginning and learn how people
like Ralegh's "activities and ideas paved the way forward.""—BookPage

"If Americans know of Sir Walter Ralegh today, it is
as the founder of the "Lost Colony" of Roanoke, which disappeared without a
trace a few years after it was established on the North Carolina coast. Some,
perhaps, associate him with his quixotic quest for the golden city of "El
Dorado" in the South American jungle. But such wispy associations fail to do
justice to the colonial visionary, swashbuckling pirate, poet, courtier and
alleged traitor whom Alan Gallay has vividly conjured in "Walter Ralegh :
Architect of Empire," a richly researched and engagingly written biography."—Wall Street Journal

"[Gallay] manages to convey the enormous sense of how the
gallant courtier, alchemist, humanist, and author helped create the cult of the
goddess queen-who summarily ejected him out of her orbit. An enriching,
sympathetic consideration of an extraordinary character in the fraught time of
Tudor England."—Kirkus Reviews

"A good choice for those already familiar with the broad
strokes of Elizabethan England, and for readers seeking to expand their
knowledge of Ralegh's life and works."—Library Journal

"In this lively and accessible biography of the pirate,
scientist, poet, and courtier Walter Ralegh, Alan Gallay challenges us to
rethink what we know about Elizabethan colonialism. Gallay whisks his readers
to London and to Ireland, to Roanoke and to Guiana, in a whirl of activity that
shows us the global reach as well as the limits of Ralegh's ambitions and
ingenuity."—Rebecca Anne Goetz, author of The Baptism of EarlyVirginia: How Christianity Created Race

"Alan Gallay offers us a myth-busting view of Walter Ralegh, and he does not disappoint. He delves deeply into Ralegh's world to show how this complex, multi-talented, and surprisingly enlightened man paved the way for the creation of the British empire and the era of European colonization. Meticulously researched, Walter Ralegh is an impressive achievement that highlights its subject's importance to history."—Roger Crowley, author of The Accursed Tower: TheFall of Acre and the End of the Crusades

"Never again will readers see Sir Walter Ralegh as the man who gallantly laid down his cape in the mud so a queen could pass. Alan Gallay has breathed vision and depth into a man who was, indeed, one of the greatest courtiers, politicians, explorers, poets, alchemists, and hermeticists of his day. This book is not just the story of an exceptional historical figure, but a carefully crafted study of sixteenth-century colonialism and how Ralegh and others understood the wisdom of the unseen and knowable universe, in all its breadth. From designing plantations in Ireland to establishing peaceful settlements in Virginia to lionizing his diplomatic encounters with the indigenous peoples of Guiana, Ralegh naively believed in a tri-continental English empire that could undermine Spanish power. In poetry, treatises, and his expansive history of the world, written during his last years as a prisoner in the Tower of London, Ralegh imagined a utopian alchemy of peoples and cultures, with a transcendent God at the helm. Walter Ralegh is a beautifully crafted and captivating work that takes the reader on a wonderful journey."—Nancy E. van Deusen, authorof Global Indios: The Indigenous Struggle for Justice in Sixteenth-CenturySpain

"It is hard to know which is better: Sir Walter Ralegh as
fascinating subject of global biography or Alan Gallay as gifted
biographer. Together, they make for a big, important, and gloriously good
book about the nature of power in the early modern world."—Marcus Rediker, author of The Slave Ship: A HumanHistory