One Line Drive: A Life-Threatening Injury and a Faith-Fueled Comeback (Hardcover)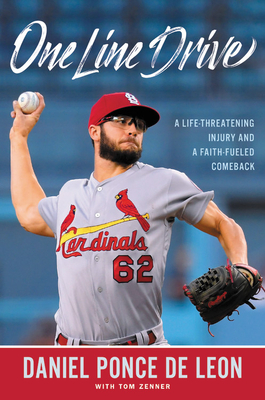 $26.00

Usually arrives at our store within 4-7 days
Description
---
Daniel Ponce de Leon's hard-fought journey to Major League Baseball and recovery from a near-death injury, followed by his astonishing big league debut, will inspire readers to trust God in all circumstances.
​
The path to achieving your dreams is not always easy. Daniel Ponce de Leon, a pitcher for the St. Louis Cardinals, overcame many challenges to get to the major leagues. Drafted four times, he spent a long four years climbing his way up through the minors before finally reaching AAA, only a step away from realizing his goal. Then, Daniel's dream was almost shattered when he was struck in the head by one line drive. Spending weeks in the hospital and months recovering from a large epidural hematoma, skull fracture, brain swelling, and hemorrhaging, Daniel held on to his belief that he would one day pitch again at the highest level.  

Fourteen months later, and fully recovered, he made his first major league start, becoming the fifth pitcher in modern major league history to throw seven innings of no-hit ball in his initial outing. MLB.com referred to it as one of the greatest debuts in Major League Baseball history.
 
In One Line Drive, Daniel retells his remarkable journey, sharing how he never would have made it without his faith in God and the support of family and friends. Full of grit, determination, and faith, Daniel's story is an inspiring reminder to keep pressing on regardless of any setback or disappointment.  
About the Author
---
Daniel Ponce de Leon is a Major League Baseball pitcher for the St. Louis Cardinals. His inspiring baseball story includes a long, winding path from high school to the majors, including recovering from a life-threatening skull fracture and brain injury that occurred when hit by one line drive. Daniel was born in La Mirada, California, on January 16, 1992, to Ramon and Mary Poncedeleon. In 2018, he married Jennifer Beatty, whom he met while attending Embry-Riddle University. His surname was originally spelled as one word, "Poncedeleon," but he legally changed the spelling to three words, "Ponce de Leon." A devout Christian and faith-driven family man, Daniel and his wife spend their off-season at their home in New Smyrna Beach, Florida. They have three children.