Telling Is Not Teaching: The Flight Instructor's Handbook (Paperback)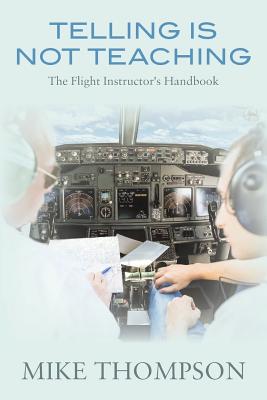 $19.95

Usually arrives at our store within 4-7 days
Description
---
Certified flight instructors are rarely educators. Many see instruction as a stepping-stone to the next level of their flight careers and assume that merely telling is the equivalent of teaching.
This mistake is detrimental to both students and the aviation industry. Telling a student something has no bearing on actual learning. True teaching requires a much deeper level of communication.
Veteran flight instructor and educator Mike Thompson applies principles of educational psychology to the FAA-H-8083-9A Aviation Instructor's Handbook. Using simple, down-to-earth language, Thompson examines how to enable genuine teaching by developing the student-instructor relationship.
Teaching is a human endeavor requiring an investment from student and instructor alike. Initially, it takes time to build a relationship with students, but once it's established, rates of engagement and retention increase. True learning is then achieved.
Despite advances in educational technology, the human brain continues to learn as it always has. Thompson applies his knowledge of how people really learn and how to build effective student-teacher relationships to provide flight instructors with skills they can use to encourage deep and advanced learning.
While primarily aimed at the aviation industry, Thompson's no-nonsense discussion of teaching and educational psychology is applicable in any instructional arena.
About the Author
---
Mike Thompson has been a flight instructor certified by the Federal Aviation Administration since 1979. During eight years with the US Coast Guard, Thompson crewed fixed-wing planes and helicopters and spent his off-duty time as a flight instructor. After active duty, Thompson completed his master's degree in education while teaching airframe and power-plant mechanics for the Wisconsin Technical College System. Thompson went on to spend eight years as an instructional-design consultant and worked on projects in the United States, Canada, Mexico, and Kuwait. He then moved into college administration and held director, assistant dean, and dean positions. He retired in 2013 and continues to maintain his certification as a flight instructor.