The Firebrand: William Lyon MacKenzie and the Rebellion in Upper Canada (Voyageur Classics #10) (Paperback)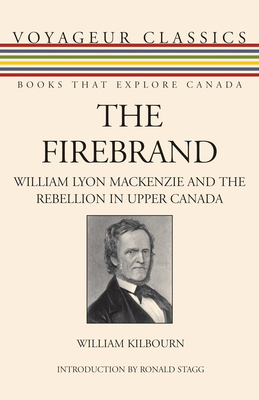 $24.99

Usually arrives at our store within 4-7 days
Description
---
In The Firebrand, William Kilbourn brings to life the rebel Canadian hero William Lyon Mackenzie. A skilled historian and an entertaining writer, Kilbourn reveals Mackenzie's complex character: able political editor, shrewd recorder of his times, efficient first mayor of Toronto, and gadfly of the House of Assembly.
Kilbourn vividly recreates the ill-fated Mackenzie-led march on Toronto during the Upper Canada Rebellion of 1837, an uprising of brave but comical farmers unprepared to meet musket and cannon, and deftly portrays the rebellion's aftermath and Mackenzie's subsequent escape and exile. A reprint of William Mackenzie's own account of the Upper Canada Rebellion is featured.
This touching, frequently hilarious book was originally published by Clarke, Irwin in 1956 and remained in print through numerous reprintings and editions for several decades, garnering praise such as The Firebrand is a major step on the path to nationhood (Globe and Mail).
About the Author
---
William Kilbourn (1926-1995) was a noted author, activist, and Toronto politician. He was a Toronto alderman and the founding chairman of the Humanities Division at York University. His books include Toronto Observed: Its Architecture, Patrons, and History and Toronto Remembered: A Celebration of the City. Ronald Stagg is the chair of the Department of History at Ryerson University in Toronto and is the co-author of The Upper Canada Rebellion of 1837.
Praise For…
---
"William Kilbourn was a first rate historian and a gifted storyteller. Using a combination of primary and secondary sources, he takes the reader back to Upper Canada in the 1820s and 30s. In his hands, Mackenzie and the Family Compact members come to life ... Kilbourn's book could be used as a text or for creational reading. Originally published in 1956, it has a new introduction written by historian Ronald Stagg who helped co-edit a book of documents on the 1837 rebellion. Highly Recommended."