Magnifico (Paperback)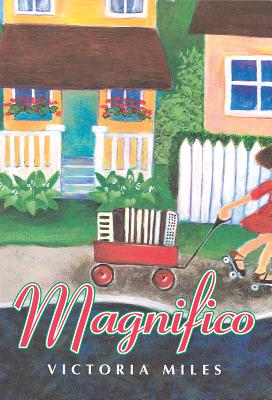 Description
---
Red Cedar Award Nominee 2008/2009
Bressani Literary Prize Winner 2008
Manitoba Young Readers' Choice Award Shortlist 2008
Chocolate Lily nominee 2007-2008
Rocky Mountain Book Award finalist, 2008
Could life get more embarrassing?
Mariangela longs to play the piano; but when her Italian immigrant family arranges for accordion lessons instead, she can't contain her disappointment. Who wants to be strapped to such a heavy, ugly old thing? But before she knows it, a mortified Mariangela is dragging the old accordion in a red wagon through the streets of Vancouver to her lessons. Try as she might, Mariangela can't get the accordion to sing for her. Even her accordion teacher, whose two missing fingers and handsome looks fascinate her, cannot find a way to inspire his pupil. But he can tell stories, and through his own sometimes harrowing experiences, Mariangela gradually comes to understand both her family's determination to start life in a new country and her own capacity to persevere.
Author Victoria Miles drew from her mother's own misadventures with the accordion to create a rich tapestry of Italian immigrant life in Vancouver during the thirties. Funny, sad, and ultimately inspiring, Magnifico is a coming of age story that will stay with the reader for a very long time.
About the Author
---
Victoria Miles is the author of Wild Science: Amazing Encounters Between Animals and the People Who Study Them, as well as numerous other books and short stories for children. Victoria lives in North Vancouver with her husband, photographer David Nunuk, daughters Emily and Daphne, and an unrequited longing to play the little red accordion that sleeps next to their sofa.