The Law of Torts, 6/E (Essentials of Canadian Law) (Paperback)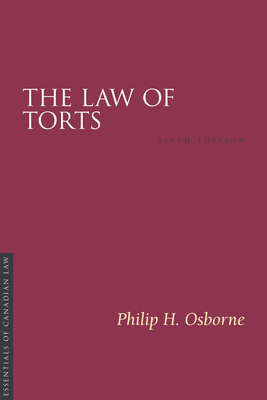 This item is not available.
Description
---
Cited in numerous judicial decisions across Canada, The Law of Torts is an indispensable resource for practitioners, judges, and students seeking a concise and accessible introduction to the principles of tort law, as well as the social policies underlying the law. As with its previous editions, this book reviews the foundations, characteristics, and objectives of tort law with specific discussions of negligence, intentional torts, strict liability, vicarious liability, nuisance, and defamation. It explains the relationships between tort law and other branches of private law, including contract law and restitution, and between tort law and public law, particularly the Charter of Rights and Freedoms. The sixth edition explores current trends in judicial decision-making by incorporating significant developments in the law, including a discussion of Supreme Court decisions in the areas of psychiatric injury in negligence law, the scope of the duty of care in negligent misrepresentation, and the role of intervening causes in negligence litigation. The text also discusses new initiatives in the areas of privacy, the responsibility of lawyers who refer their clients to other professionals, human trafficking, and anti-SLAPP legislation.