Perception: A Photo Series (Hardcover)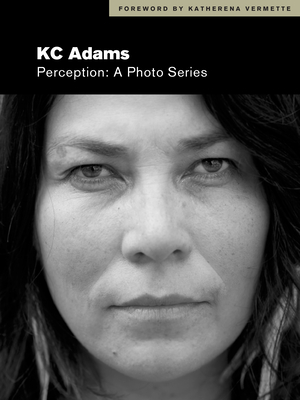 $34.00

Usually arrives at our store within 4-7 days
Description
---
Tired of reading negative and disparaging remarks directed at Indigenous people of Winnipeg in the press and social media, artist KC Adams created a photo series that presented another perspective. Called "Perception Photo Series," it confronted common stereotypes of First Nation, Inuit and M tis people to illustrate a more contemporary truthful story. First appearing on billboards, in storefronts, in bus shelters, and projected onto Winnipeg's downtown buildings, Adams's stunning photographs now appear in the book, Perception: A Photo Series. Meant to challenge the culture of apathy and willful ignorance about Indigenous issues, Adams hopes to unite readers in the fight against prejudice of all kinds.
Perception is one title in The Debwe Series.
About the Author
---
KC Adams (she/her/hers) is a Cree/Ojibway/British Winnipeg-based artist who graduated from Concordia University with a B.F.A in studio arts. Adams has had several solo exhibitions, group exhibitions and was included in the PHOTOQUAI: Biennale des images du monde in Paris, France. KC has participated in residencies at the Banff Centre, the Confederation Art Centre in Charlottetown, the National Museum of the American Indian and the Parramatta Arts Gallery in Australia. Adams has received several grants and awards from Winnipeg Arts Council, Manitoba Arts Council and Canada Council for the Arts. KC's work is in many permanent collections Nationally and Internationally. Twenty pieces from the Cyborg Hybrid series are in the permanent collection of the National Art Gallery in Ottawa and from the installation Birch Bark Ltd, four trees are in the collection of the Canadian Consulate of Australia, NSW. Adams was the set designer for the Royal Winnipeg Ballet's Going Home Star: Truth and Reconciliation. Adams has designed public art sculptures for the Winnipeg Forks South Point Project and the United Way of Winnipeg called Community. Adams have been teaching about Indigenous pottery and learning from elders at the annual nibi (water) gathering at Whiteshell Provincial Park. KC recently won the Winnipeg Arts Council's Making A Mark Award and the Aboriginal Circle of Educator's Trailblazing Award. She is an instructor in Visual and Aboriginal Art at Brandon University.