His Love Endures Forever: Psalms of Thankfulness and Praise (CD-Audio)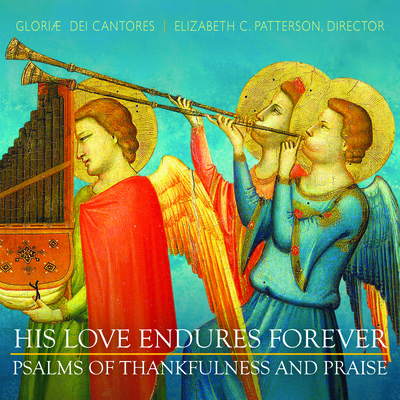 Description
---
Through the ages, beginning in the courts of King David, ringing through the Temple in Jerusalem, from synagogues, cathedrals, and churches all over the world, the poetry of the Psalms has been sung in myriad ways. No other set of texts provides the full spectrum of human emotion and communication between man and his Maker like the Psalms.
Gloriae Dei Cantores presents the third volume of its Anglican Psalmody series, His Love Endures Forever: Psalms of Thankfulness and Praise. This collection containts twenty-one of the most beautiful psalm tunes and the most uplifting texts in the series. From Psalm 8, "O Lord, our Governor, how excellent is Thy Name in all the world," to the final verse of Psalm 150, "Let everything that hath breath praise the Lord," these psalms express the utmost of praise and thanksgiving to God in every circumstance, and from every corner of creation.
His Love Endures Forever: Psalms of Thankfulness and Praise is Gloriae Dei Cantores final CD in the Anglican Psalmody collection. The choir inherited its edition of Psalmody from Dr. George Guest of Cambridge, England, and has sung the Psalms in worship for more than twenty years. Choral directors, singers, and all who enjoy sacred choral music will value these joyful and enriching psalms of praise, sung by one of America's top choirs.

Click Here to View the Complete Texts of the Psalms on this Recording
About the Author
---
Gloriae Dei Cantores (Singers to the Glory of God) holds a passionate dedication to the faithful representation of spiritual and musical authenticity in the choral arts. Sharing its vision of inspiration and hope, the choir has touched the hearts of audiences in twenty-four countries in Europe and Asia, as well as extensive tours and concert series in the United States. The choir's catalog of more than fifty recordings showcases an expansive repertoire, encompassing both masterworks and rarely performed musical treasures from Gregorian chant to the twenty-first century. Richard K. Pugsley and Gloriae Dei Cantores have garnered high praise for bringing lesser- known, yet fully deserving composers and their works to light. The choir makes its home at the Church of the Transfiguration in Orleans, Massachusetts, where it sings worship services throughout the year.
Praise For…
---
"Volume 3. His Love Endures Forever, radically shifts our attention from our need (Volume 1) and God's provision (Volume 2) to God's Person (Volume 3). We now move from thanksgiving for what God has done to worship for who God is. This is an important musical and spiritual shift. As appropriate to such a shift, Psalm 96, "O Sing unto the Lord a new song," is the first track of the third volume.  These Volumes, although likely not intended for this purpose, are perfect for these smaller congregations as a means for enhancing meditation, worship, catechesis and training. As well, being centered in the Psalter, they are very useful in our private worship by setting the tone for both seasonal considerations and self-reflection.  Paraclete Press, rooted as it is within liturgical renewal and reform, has provided us with wonderful resources for personal reflection and congregational renewal."
—The Very Rev. Dr. Donald P. Richmond, Obl.OSB., Forward in Christ

"The singing of Gloriae Dei Cantores and the playing of the Skinner organ at [the] Church of the Transfiguration, Orleans, Mass.,enhance the rich text of 20 psalms...Especially helpful is the accompanying booklet that explains Anglican psalmody and includes brief meditations that place each psalm in historical context. An accurate, balanced, pleasing musical aid to meditation on God's love and faithfulness to all generations."
—The Living Church