The End of Victory Culture: Cold War America and the Disillusioning of a Generation (Culture and Politics in the Cold War and Beyond) (Paperback)
×
Warning message
Mean Menu style requires
jQuery
library version 1.7 or higher, but you have opted to provide your own library. Please ensure you have the proper version of jQuery included. (note: this is not an error)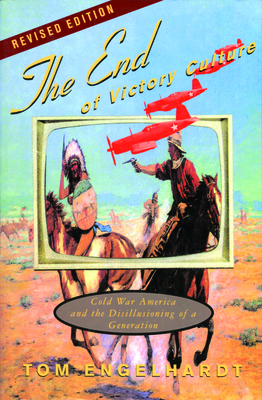 This item is not available.
Description
---
In a substantial new afterword to his classic account of the collapse of American triumphalism in the wake of World War II, Tom Engelhardt carries that story into the twenty-first century. He explores how, in the aftermath of September 11, 2001, the younger George Bush headed for the Wild West (Osama bin Laden, "Wanted, Dead or Alive"); how his administration brought "victory culture" roaring back as part of its Global War on Terror and its rush to invade Saddam Husseins's Iraq; and how, from its "Mission Accomplished" moment on, its various stories of triumph crashed and burned in that land.
About the Author
---
Tom Engelhardt, for fifteen years a senior editor at Pantheon, is now consulting editor at Metropolitan Books, a Fellow of the Nation Institute, and a Teaching Fellow at the Graduate School of Journalism, University of California, Berkeley. He is a regular book reviewer and essayist and is also creator and editor of the website Tomdispatch.com.
Praise For…
---
"Sets out to trace the vicissitudes of America's self-image since World War II as they showed up in popular culture: war toys, war comics, war reporting, and war films. It succeeds brilliantly. . . . Engelhardt's prose is smart and smooth, and his book is social and cultural history of a high order."—Boston Globe

"Engelhardt is absorbing and provocative. . . . Everything he writes is of a satisfyingly congruent piece."—New York Times

"America Victorious has been our country's postulate since its birth. Tom Engelhardt, with a burning clarity, recounts the end of this fantasy, from the split atom to Vietnam. . . . As powerful as a Joe Louis jab to the solar plexus."—Studs Terkel, author of The Good War

"A brilliant meditation on the past half-century of the American national story. . . . Its account of the disintegration of a confident post-World War II national identity is a stunning achievement."—Marilyn Young, author of The Vietnam Wars

"An extraordinarily original work that places postwar American history in an entirely new perspective."—John Dower, author of War without Mercy

"In this tour de force, Tom Engelhardt tracks the American 'war' story along its declining arc. . . . Full of brilliancies, this is one of those rare books that can change the way we see."—Todd Gitlin, author of The Sixties

"Freelance writer Engelhardt here traces the roots of American "triumphalism" back to early New England, where the massacre of Indians set the pattern for the self-justified slaughter of external enemies, a ritual that would be replayed endlessly not only in life but also in fiction, movies, toys and comics. In his sprawling meditation, he considers the effect of our "loss of enemy" when the Japanese surrendered in 1945. In his tedious recap of the Vietnam tragedy Engelhardt suggests that the American public's inability to view the Viet Cong as a savage, lesser adversary contributed to our becoming 'the world's most extraordinary [because least expected] losers.' The desire to create a Third World battlefield with maximum U.S. weaponry and minimum U.S. casualties was briefly satisfied, he contends, by the Gulf War with its seemingly bloodless, machine-versus-machine destructiveness. America, according to Engelhardt, is still yearning for a revival of our national identity via the victory culture, 'the story of their slaughter and our triumph.'"—Publishers Weekly

"Engelhardt, an editor and freelance writer, traces the growth and decline of 'victory culture' in American history. A triumphalist myth, unquestioned for years, promoted the belief that America would always overcome its enemies. Engelhardt shows how major events since 1945 have thoroughly eroded this belief, resulting in disillusionment for those over 40 and bewilderment for the post-Vietnam War generation. He focuses on a variety of related themes: Indian captivity narratives; Hollywood's depiction of our 'enemies,' usually dehumanized Native Americans and Asians; the phenomenon of 'GI Joe,' the most popular war toy ever created; and the advent of rock'n'roll and the teen subculture that grew up around it. Engelhardt's study is a solid contribution to Cold War literature, especially where it touches upon questions of national purpose and identity. Although scholarly in tone, his book will appeal to anyone interested in American popular culture. Recommended for most libraries."—Library Journal