Kindness: A Treasury of Buddhist Wisdom for Children and Parents (Paperback)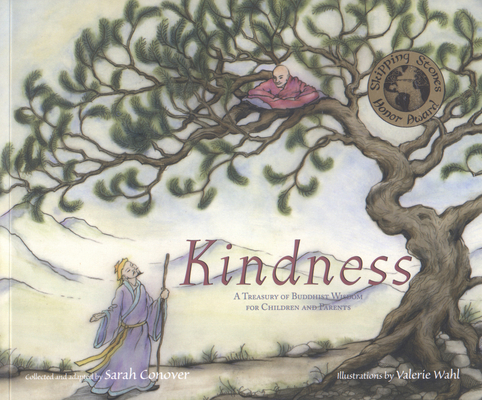 Description
---
Sarah Conover's collection of traditional Buddhist tales leads us to the kind of implicit understanding of ourselves and others that only stories can provide. Following the Buddha through his various transformations, these clarified, often humorous narrative journeys open the ancient masters profound and gentle teachings to persons of all ages, religions, races, and ideological persuasions. Over and over this marvelous book tells us, "let go of your anger, your fear, your greedy desire. Embrace gladness. Follow the path." And the stories themselves, simply as stories, from a wondrous pageant: of elephants, monkeys, monks, and men working through foolishness toward wisdom and delight.
About the Author
---
Sarah Conover is the co-author of Ayat Jamilah: Beautiful Signs: A Treasury of Islamic Wisdom for Children and Parents (Skinner House Books) and other books on world faith traditions.
Illustrator Valerie Wahl currently lives and works in Spokane, Washington. She has read thousands of books to her children over the years, but this is her first try at illustrating one. She is a graduate of Washington State University where she studied Fine Art.
Praise For…
---
"Most of these 32 stories are only a few pages long, and the longer ones seem drawn out. Wry, rather than humorous, many are less-known Jataka tales. The traditions of India, Japan, and Tibet are well represented, while China and other Buddhist-influenced countries are not. Although many of these stories resemble fables, their level of language as well as the parablelike meanings demand skillful readers. Oblique as many tales are, readers must be good interpreters, alert to implications. The vocabulary ("asceticism," "gratification," "enlightenment") in the "Young Reader" introductions signals is level of sophistication. The narrative style is sometimes arch ("sprite," "thee"), sometimes moralizing. The dozen full-page illustration are fine line drawings, whose realistic style helps ground these spiritual anecdotes. Each story is preceded by a wise "saying," providing attractive and accessible nuggets of Buddhist thought. Sources for sayings and stories appear in a valuable annotated bibliography. this is not a complete introduction to the religion, but its ethos, much as a collection of parables would be for Christianity. Although there are several similar compilations in print, the growth of Buddhism in the U.S. might provide a demand for this one, too." -Patricia Lothrop, School Library Journal
— Reviews

"Many American children know the parable of the mustard seed told in the New Testament. Few, however, have been exposed to the equally compelling Buddhist story of the mustard seed. In this parable, the Buddha tells a woman who has lost her child to seek out mustard seeds from families that have not been exposed to death. In doing so, the woman learns the universality of grief. Thirty-one such stories have been masterfully adapted and translated by Conover to transmit the soft, lyrical voice of the originals. These include Jataka tales, stories of the Buddha in past incarnations, which are widely read and retold to Buddhist children throughout the world. Populated with sticky-haired dragons, verbose monkeys, and strange-looking monks, and illustrated in pleasant, sepia-tone pictures contributed by Valerie Wahl, Kindness is packed with excellent tales that will surprise and delight readers while introducing them to the diversity of religious traditions." -John Green, Booklist
— Reviews