Lion of Speech: The Life of Mipham Rinpoche (Hardcover)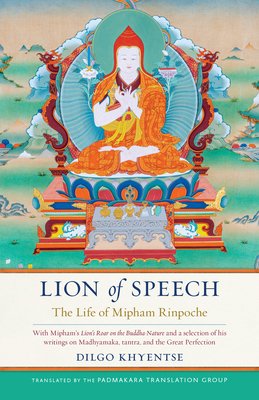 Description
---
A traditional biography on the life of Mipham Rinpoche--one of the greatest 19th-century masters--from Dilgo Khyentse Rinpoche, one of the greatest 20th-century masters.

The first half of this volume comprises the first-ever English translation of the biography of Mipham Rinpoche written by Dilgo Khyentse Rinpoche, a teacher to His Holiness the Dalai Lama as well as an entire generation of other teachers and students throughout the Himalayan region and the West. Composed in 1939, it was left behind in Tibet in 1959 when Khyentse Rinpoche went into exile and was lost for fifty-one years before its discovery in 2010 by an extraordinary stroke of good luck. Reverential in tone, it is informed by both oral accounts preserved in notes kept by Khyentse Rinpoche's elder brother and the recollections of Mipham's devoted personal attendant of thirty-seven years.

In keeping with the identification of Mipham as an emanation of Manjushri, the lion of speech, the second half comprises a selection of Mipham's writings, designed to give the reader an experience of Mipham's eloquent speech and incisive thought. It includes both a new translation of The Lion's Roar: A Comprehensive Discourse on the Buddha-Nature and A Lamp to Dispel the Dark, a teaching of the Great Perfection, as well as excerpts from previously published translations of his works on Madhyamaka and tantra.
About the Author
---
DILGO KHYENTSE RINPOCHE (1910-1991) was a highly accomplished meditation master, scholar, and poet, and a principal holder of the Nyingma lineage. He was respected by all schools of Tibetan Buddhism and taught many eminent teachers. He tirelessly worked to uphold the Dharma through the publication of texts, the building of monasteries and stupas, and by offering instruction to thousands of people throughout the world. His writings in Tibetan fill twenty-five volumes.

JAMGON MIPHAM (1846-1912) is one of the great luminaries of Tibetan Buddhism in modern times. He has had a dominant and vitalizing influence on the Nyingma school in particular and, despite spending most of his life in retreat, is one of Tibet's most prolific authors.

THE PADMAKARA TRANSLATION GROUP, based in France, has a distinguished reputation for its translations of Tibetan texts and teachings. Its work is published in several languages and is renowned for its clear and accurate literary style.
Praise For…
---
"I don't know what Nyingma students and practitioners would do today without Mipham Rinpoche. For me personally, there are few commentators on the wisdom teachings as clear and concise as Mipham Rinpoche. His commentaries stick in my mind long after I close the text. Any dedicated Nyingmapa will keep this volume close at hand."—Dzongsar Jamyang Khyentse Rinpoche

"Jamgön Mipham Rinpoche was one of the greatest upholders of the buddhadharma to appear in modern times, and throughout Tibet, his sublime qualities and incredible genius were universally recognized. Among his disciples were some of the greatest masters of our time. Indeed, the author of this biography, my own revered grandfather and root teacher, Dilgo Khyentse Rinpoche, received the blessing of the mind-to-mind transmission directly from Mipham Rinpoche himself. . . . Those who are fortunate to read the writings of Jamgön Mipham can now learn something of the author's life, and their faith in him will increase. I pray that through their study, reflection, and meditation, they will progress on the perfect path to happiness."—The Seventh Shechen Rabjam Rinpoche

"This publication, with its rich historical context, is a treasure to behold."—Buddhistdoor Global