There are no products in your shopping cart.
Please call 626-449-5320 to check the availability of this item.
The Screaming Chef (Hardcover)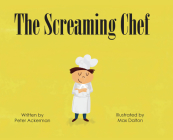 Description
---
The creators of The Lonely Phone Booth and The Lonely Typewriter
are at it again in their new children's book The Screaming Chef.
Witty text and clever illustrations combine to create a silly yet
serious picture book for readers of all ages which teaches that you
catch more flies with honey than with vinegar, especially when you're singing.