The Ginormous Book of Dirty Jokes: Over 1,000 Sick, Filthy and X-Rated Jokes (Paperback)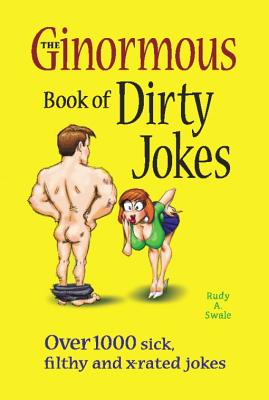 Description
---
THE BIGGEST, BADDEST, BADASSEST BOOK OF LEWD, CRUDE AND FUNNY-AS-$# + JOKES
-What did the two lesbian frogs say to each other? We do taste like chicken
-What does a blonde put behind her ears to make her more attractive? Her ankles.
-The journalist asked the politician, "Your assistant said publicly that you have a small penis. Would you like to comment? "Yes, I would," said the politician. "The truth is my assistant has a big mouth."
-A guy walks in on his wife having sex with another man and says, "what the hell are you two doing?" His wife turns to her lover and says, "I told you he was stupid."
-How do you get a nun pregnant? Dress her up as an altar boy.
If you think no joke is too raw as long as it's funny--this is the book for you This massive collection of laugh-out-loud and totally politically incorrect jokes is sure to have you and your friends rolling in hysterics.
About the Author
---
Rudy A Swale is a compiler of joke books.