Dirty Russian: Everyday Slang from (Paperback)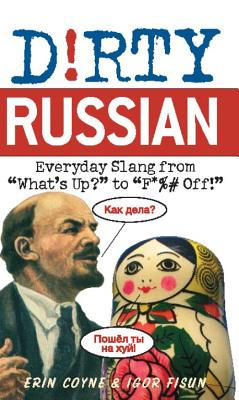 $12.00

Usually arrives at our store within 4-7 days
Description
---
GET D!RTY

Next time you're traveling or just chattin' in Russia with your friends, drop the textbook formality and bust out with expressions they never teach you in school, including:

• Cool slang
• Funny insults
• Explicit sex terms
• Raw swear words

Dirty Russian teaches the casual expressions heard every day on the streets of Russia:

What's up?
kak de-LA?

I really gotta piss.
mnye O-chen NA-do pos-SAT.

Damn, you fine!
blin, nu ti i shi-KAR-nii!

Let's have an orgy.
da-VAI u-STRO-im OR-gi-yu.

This is crappy vodka.
d-ta VOD-ka khre-NO-va-ya.

Let's go get hammered.
poi-DYOM bukh-NYOM.

I'm gonna own you, bitch!
ya te-BYA VI-ye-blyu!
About the Author
---
Igor Fisun is a native of Kiev, Ukraine, which, in moments of nationalist pride, he prefers to spell "Kyiv." He is a former student of Kiev PTU, where he quickly abandoned all interest in ever holding down a real job and instead embarked upon a career in freelance engraving. His native languages are Russian and Ukrainian, and he hopes someday to learn English well enough to talk his way out of a traffic ticket. His interests include cooking, Japanese art, cheap wine, and pissing people off on internet forums. He is ridiculously proud of his orchid collection.