Cavalletti: For Dressage and Jumping (Hardcover)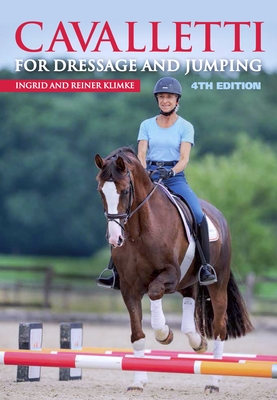 $31.95

Usually arrives at our store within 4-7 days
Description
---
A revised edition with new photographs and textural updates.
Each horse, no matter the riding discipline, benefits from working with cavalletti. Dressage and eventing rider extraordinaire Ingrid Klimke explains how training with ground poles and cavalletti is one of her secrets of success. Cavalletti training improves the gaits; promotes rhythm, suppleness, and cadence; and increases the fitness of your horse. This newly revised guide shows cavalletti work on the longe, provides valuable new ideas specifically for dressage work, and numerous updated diagrams for jumping gymnastics, along with all new color photographs.
About the Author
---
Ingrid Klimke is a former international trainer of dressage, show jumping, and event horses, and currently competes for Germany as an event rider. She had always been able to call on her father's experiences but has also been greatly influenced by Fritz Ligges, Ian Miller, and Anne Kursinski. She appeared at four Olympics, from 2000 to 2012. With her horse Abraxxas, she has won two gold medals in team eventing, at the 2008 Summer Olympics and the 2012 Summer Olympics. In January 2012, she was promoted to a "Reitmeister" (Riding Master, a special title of the German Equestrian Federation). Klimke is the second woman ever to be promoted as "Reitmeister". Reiner Klimke 1936-1999. Dr. Klimke, one of the most famous and successful dressage riders of all time won Olympic Dressage team gold medals in 1964, 1968, 1976, 1984, 1988, and the individual gold in 1984 on his most famous horse, Ahlerich. Early in his riding career he competed in eventing and was a member of the winning West German three-day event team at the 1959 European Championships, and competed for West Germany in the 1960 summer Olympics. Klimke not only rode and trained, but also ran a law firm and served on several boards, including the FEI Dressage Committee. With his wife, Ruth (also a top show jumping and dressage rider), he had 3 children: Ingrid, Rolf, and Michael. His daughter Ingrid Klimke competes successfully at the international level in eventing and dressage and won an eventing gold at the 2008 summer Olympics twenty years after her father's last Olympic gold medal. His son Michael also competes at the Grand Prix level in dressage. Klimke died at age 63 in Munster, Germany.