Physical Therapy for Horses: A Visual Course in Massage, Stretching, Rehabilitation, Anatomy, and Biomechanics (Hardcover)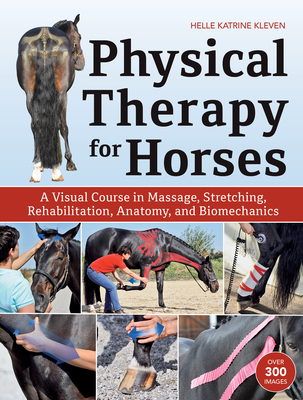 $45.00

Usually arrives at our store within 4-7 days
Description
---
An incredible illustrated reference to help keep the horse sound in body and mind and at the top of his game.
In this highly illustrated book, equine physical therapy expert Helle Katrine Kleven begins with a comprehensible introduction to the musculoskeletal and nervous systems, as well as an instructive conversation covering biomechanics basics, then explores the major areas of physical therapy in detail.
Readers will find practical how-to guidance in the most popular therapeutic modalities, as well as cutting-edge alternatives that are currently gaining ground:
Fascia work
Stretching
Massage
Stability and strengthening exercises
Laser therapy
Kinesiotaping
And much more.
With this incredible course in preventive and rehabilitative techniques, horse owners and professionals will be thoroughly prepared to ensure their horses' comfort and well-being. The book includes:
Over 300 color photos and illustrations.
Facts and tips in easy-to-read callouts throughout.
A section on preventive measures to stop problems before they start.
Handy anatomical guides to the equine skeleton, muscle layers, and fascia.
About the Author
---
Helle Katrine Kleven was born in Norway but has lived in Germany since 1988. Kleven began as a physical therapist for humans before training in England and Germany to apply her knowledge to horses. She pursued work as an equine physical therapist starting in 1996 and is now well known for her popular courses and lectures. Kleven supervised the horses of the German Eventing Team and the Endurance Team in an official capacity from 1998-2000. She currently resides in Vatterstetten, Germany.