Where Does My Dog Hurt: Find the Source of Behavioral Issues or Pain: A Hands-On Guide (Paperback)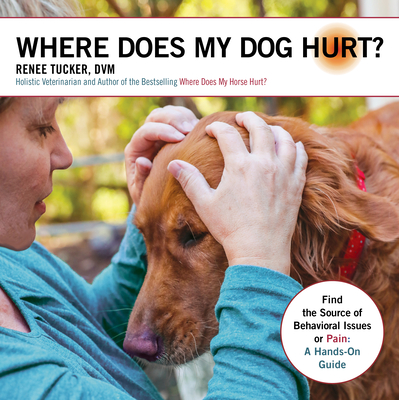 $26.95

Usually arrives at our store within 4-7 days
Description
---
A do-it-yourself method of determining when and where your dog hurts.
Keep your dog pain-free and feeling and performing his best Introducing 23 simple body checkups you can do at home on your dog. This remarkably easy-to-follow book, conveniently spiral-bound so you can lay it open and follow the step-by-step instructions as you work on your dog, helps you:
Become familiar with your dog's normal range of movement so you can prevent minor issues from becoming major.
Stay in tune with areas of temporary or chronic discomfort so you can offer relief as needed.
Solve "mystery" limps and lamenesses that come and go, seemingly without reason.
Save thousands of dollars by avoiding expensive diagnostics that rarely get you answers.
Learn how to discuss potential problem areas with veterinarians and bodyworkers.
Keep your dog active and happy for more months of the year, and more years of his life.
Clear, colorful anatomical illustrations and how-to photographs demonstrate each body checkup, from nose to tail. Sensible organization allows you to move purposefully and progressively when trying to pinpoint a problem, while also ensuring that it is easy to find what you need, when you need it. With considerations for all canines, of every size and breed, and the goal of optimal health and a vibrant quality of life, this practical book is for everyone who counts a dog as a friend or family member.
About the Author
---
Dr. Renee Tucker received her Doctorate in Veterinary Medicine from the University of Tennessee in Knoxville, Tennessee. Dr. Tucker received her Certification for Animal Chiropractic (CAC) in 1998, and her Acupuncture certification in 2000. She started her own private practice specializing in equine acupuncture and chiropractic work in 2000. "How do things work?" has always been a question that Dr. Tucker has tried to answer. Prior to receiving her veterinary degree, she received her bachelor's degree in Bioengineering. This unique combination of veterinarian and engineer has enabled her to create a special approach for helping owners with their horses and their dogs. Over many years, Dr. Tucker developed her own unique alignment technique, Tucker BioKinetic Technique (TBT). She teaches BioKinetic Technique seminars around the world. Dr. Tucker currently resides with her two boys in Burbank, California (wheredoesmyhorsehurt.com). Naomi Harmer is an orthopedic nurse and canine rehabilitation therapist. She is trained in the Tucker Biokinetic Technique and owns Integrated Animal Wellbeing in Yackandandah, Victoria, Australia.