Meister Eckhart's Book of Secrets: Meditations on Letting Go and Finding True Freedom (Paperback)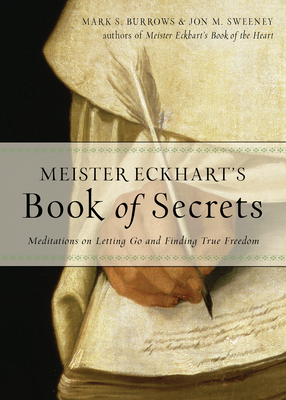 Description
---
"I think Mark Burrows and Jon Sweeney achieve something quite rare and wonderful here. They make Eckhart clear, concise, and very compelling!" —Richard Rohr, OFM, bestselling author of Falling Upward

An elegant rendering of the great mystic's thoughts on the mysteries of the authentic life
This is a little book about soul freedom. It is a book about discovering the secret to all the things we most desire: contentment, meaning, peace of mind, and true freedom. This skillfully edited translation of selections from the writings of Meister Eckhart provides a roadmap to the spiritual life for contemporary seekers. Eckhart takes us on a journey of discovery; a journey in which we learn to let go, relinquish our need to know everything, and lose those things that we think are important for a life of worth. And in the end he shows us that the true secret is this: to find yourself, you must lose yourself.
Here is timeless wisdom from a medieval mystic who has influenced a wide range of spiritual teachers and mystics both inside and outside the Christian tradition. Erich Fromm, Arthur Schopenhauer, Dag Hammarskjöld, Eckhart Tolle, Richard Rohr, D. T. Suzuki, Rudolf Steiner, and Matthew Fox have all credited Eckhart as being an important influence on their thought. In addition, his work has influenced the development of 20th-century American Buddhism and the Theosophical tradition.
Divided into five sections—Seeking the Light, Facing Darkness, Risking Love, Knowing Nothing, and Embracing Everything—the book leads readers on the path to an authentic spiritual life.
About the Author
---
Mark S. Burrows is a poet, translator, and professor of religion and literature at the Protestant University of Applied Sciences in Bochum, Germany. His poetry has appeared in Poetry, the Cortland Review, the Southern Quarterly, Weavings, and a number of other periodicals.
Jon M. Sweeney is an independent scholar, critic, and writer. Several of his books have become History Book Club, BOMC, One Spirit Book Club, and QPB selections. After cofounding SkyLight Paths Publishing in Vermont, he served as editorial director at Franciscan Media, and is now the editor-in-chief at Paraclete Press. He lives in Milwaukee, WI.
Praise For…
---
"Poet Burrows and scholar Sweeney (Meister Eckhart's Book of the Heart) collect meditations derived from the writings of 14th-century mystical Dominican friar Meister Eckhart in this moving selection of poetic interpretations based on his quotations. The authors have translated Eckhart's original sermons and academic texts, both from Latin and German into English and from prose into poetry. They consider their work a "carrying over" of his insights for readers "for whom the style of his writings might not be easily accessible." The book contains five loose sections with titles that suggest the paradoxical nature of Eckhart's work, including "Knowing Nothing" and "Embracing Everything." The meditation-poems create a satisfying thematic arc if read from start to finish, or they can be selected at random as part of a meditation practice. While most of the poems feature God (and some specifically reference the Bible), the insights often speak to a broader spirituality, such as: "So you want to learn to love God?/ Well there is no particular way,/ since God is not to be found in any/ way..." These short poems, filled with the Dominican mystic's insight and levity, will make for a fine introduction to Eckhart's thinking. (Oct.)" --Publishers Weekly, Reviewed on 08/02/2019
— Publishers Weekly

"Positioned as a follow-up to Meister Eckhart's Book of the Heart: Meditations for the Restless Soul, this book by collaborators Sweeney and Burrows collects meditations from the 14th-century priest and mystic Eckhart von Hochheim, better known as Meister Eckhart. Though presented as a combination of prose and poems, the work notes that Eckhart himself did not write poetry. Rather, these are curated theological reflections presented in poetic form with many lines taken verbatim from Eckhart's more formal theological discourses and sermons. In this, Sweeney and Burrows have crafted something akin to a road map to centering prayer. Eckhart's mystical musings lead toward an 'undoing, letting go of our need to manage our lives, freeing ourselves to seek this treasure.' VERDICT With an economy of language, these words read like Buddhist koans, encouraging a path toward the richness of an interior life."- Library Journal, Sandra Collins, ­Byzantine Catholic Seminary Lib., Pittsburgh 
— Library Journal

"Christian through and through, with a mystical bent, Eckhart earned a following from the likes of Erich Fromm, D. T. Suzuki, Rudolf Steiner, Richard Rohr, and many others across the religious spectrum. This superb new translation modernizes Eckhart's writings into short poems for contemporary seekers. In their introduction, Mark Burrows and Jon Sweeney invite readers to discover the secrets of the Meister's teachings, which draw "on perennial truths that point to what Eckhart called the 'pathless path,' which alone can lead us into true freedom." – Foreword Reviews
— Foreword Reviews