The Old Farmer's Almanac 2015, Trade Edition (Paperback)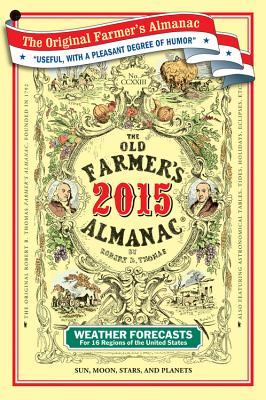 This item is not available.
Description
---
As surely as the Sun rises in the east and maple leaves turn color in autumn,
The Old Farmer's Almanac
is back—and it's better than ever!
Recognized for generations by its familiar yellow cover, America's best loved annual and oldest continuously published peridocial (now in its 223rd year!) promises to be "useful, with a pleasant degree of humor," thus once again both fulfilling the mission set forth by its founder Robert B. Thomas and readers' expectations. This edition is packed with wit, wisdom, tips, advice, facts, fun, and recipes, including . . .
• traditionally 80 percent-accurate weather forecasts
• creatures from hell
• readers' wacky coincidences
• making sausages at home
• wildfires' effect on weather
• love potions
• beauty secrets
• odds of almost everything
• unmasked mysteries of plant seed dispersal
 Plus, Moon phases and other celestial sightings, tides, gardening tables, best days, and too much more to mention.
 Added value this year:
• 96 full-color pages—16 more than ever!
• full-color winter and summer weather maps
• updated Reference section
The Old Farmer's Almanac is often imitated, but never equaled. Accept no substitutes!
About the Author
---
America's best-selling annual publication, with facts, feature articles, and advice that are "useful, with a pleasant degree of humor."