Dark Night of the Soul (Paperback)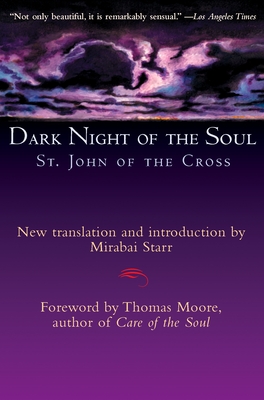 Description
---
While imprisoned in a tiny prison cell for his attempts to reform the Church, sixteenth-century Spanish mystic John of the Cross composed many of his now classic poems of the soul's longing for God. Written on a scroll smuggled to him by one of his guards, his songs are the ultimate expression of the spiritual seeker's journey from estranged despair to blissful union with the divine
After escaping his captors, John fell into a state of profound ecstasy and wrote Dark Night of the Soul. Later, he added an important commentary to his poem to guide other searching souls along the arduous path to communion with God. Here, for the first time, a scholar unaffiliated with the Catholic Church has translated this timeless work. Mirabai Starr, who has studied Buddhism, Hinduism, and Judaism, lends the seeker's sensibility to John's powerful text and brings this classic work to the twenty-first century in a brilliant and beautiful rendering
About the Author
---
Thomas Moore, Ph.D., wrote the phenomenal #1 bestsellers Care of the Soul and SoulMates as well as many other successful books. Moore was a Catholic monk for twelve years and later became a psychotherapist, earning degrees in theology, musicology, and religion. Moore now lectures extensively throughout North America.
Praise For…
---
"What a beautiful translation!…Starr offers us an entryway and a path into this sixteenth-century mystic's mind, and gives us a fine, personal introduction to begin our luminous journey."—
Natalie Goldberg, bestelling author of Writing Down the Bones
"Mirabai Starr's admirably modernized translation restores to us a classic in all its unflinching candor."—Andrew Harvey, bestselling author of The Direct Path
"I am grateful for Mirabai Starr's fluid, inviting translation of this important text."—from the Foreword by Thomas Moore, bestselling author of Care of the Soul
"Starr, who teaches philosophy and religious studies at the University of New Mexico, offers an engaging and evocative new translation of John's most famous treatise, "Dark Night of the Soul."…Starr's lyrical translation and her thoughtful introduction bring new life to John's powerful treatise on the life of the soul."—Publishers Weekly
"When the ordeals of higher stages of the path of love begin, the seeker will find no more astute or accurate guide to their meaning and mystery than St. John of the Cross's Dark Night of the Soul.
Mirabai Starr's admirably modernized translation restores to us a classic in all its unflinching candor."—Andrew Harvey, bestselling author of The Direct Path
"What a beautiful translation! We all have used the title as an expression—"dark night of the soul"—but few of us have gone further. Starr offers us an entryway and a path into this sixteenth-century mystic's mind, and gives us a fine, personal introduction to begin our luminous journey."—Natalie Goldberg, bestelling author of Writing Down the Bones
"I am grateful for Mirabai Starr's fluid, inviting translation of this important text. He translation allows me to adapt John's words to my life with an immediacy I've never felt before in relation to this work. With this marvelous English version in hand…readers might discover their spiritual calling here and make the all-important shift from curing the personality to caring for the soul."—from the Foreword by Thomas Moore, bestselling author of Care of the Soul
"Not only beautiful, it is remarkably sensual."—Los Angeles Times