Firearms of the Texas Rangers: From the Frontier Era to the Modern Age (Hardcover)
×
Warning message
Mean Menu style requires
jQuery
library version 1.7 or higher, but you have opted to provide your own library. Please ensure you have the proper version of jQuery included. (note: this is not an error)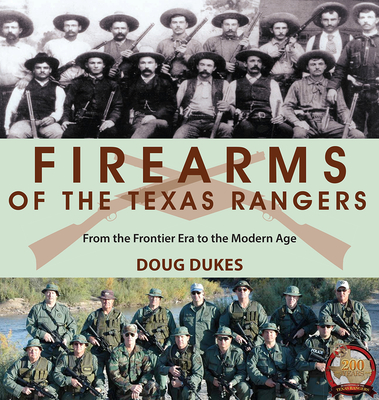 $45.00

Usually arrives at our store within 4-7 days
Description
---
From their founding in the 1820s up to the modern age, the Texas Rangers have shown the ability to adapt and survive. Part of that survival depended on their use of firearms. The evolving technology of these weapons often determined the effectiveness of these early day Rangers. John Coffee "Jack" Hays and Samuel Walker would leave their mark on the Rangers by incorporating new technology which allowed them to alter tactics when confronting their adversaries. The Frontier Battalion was created at about the same time as the Colt Peacemaker and the Winchester 73—these were the guns that "won the West."
Firearms of the Texas Rangers, with more than 180 photographs, tells the history of the Texas Rangers primarily through the use of their firearms. Author Doug Dukes narrates famous episodes in Ranger history, including Jack Hays and the Paterson, the Walker Colt, the McCulloch Colt Revolver (smuggled through the Union blockade during the Civil War), and the Frontier Battalion and their use of the Colt Peacemaker and Winchester and Sharps carbines. Readers will delight in learning of Frank Hamer's marksmanship with his Colt Single Action Army and his Remington, along with Captain J. W. McCormick and his two .45 Colt pistols, complete with photos.
Whether it was a Ranger in 1844 with his Paterson on patrol for Indians north of San Antonio, or a Ranger in 2016 with his LaRue 7.62 rifle working the Rio Grande looking for smugglers and terrorists, the technology may have changed, but the gritty job of the Rangers has not.
About the Author
---
DOUG DUKES, a native Texan, retired after a lengthy law enforcement career with the Austin Police Department. He has written articles for Wild West History Association Journal, Wild West, and True West magazines, and also the Texas Ranger Hall of Fame and Museum's online chronicle, The Texas Ranger Dispatch. He lives near Liberty Hill, Texas.
Praise For…
---
"This book is unique in the author's approach to the tactics of the Rangers, and his detailed reporting on the types and amounts of firearms used, their ammunition and how much of it was issued and where it was obtained. He also describes the personal preferences of individual Rangers, with good detailed information not found in other works. I enjoyed the interesting accounts of the various fights and campaigns of the Texas Rangers."—Phil Spangenberger, Firearms Editor, True West magazine
 
"Drawing on his decades of law enforcement and firearms experience, Dukes has provided something unique to the body of Texas Ranger literature. Many authors incorporate discussions on weaponry while telling the larger story of that vaunted corps of Indian fighters and lawmen. However, few, if any, have put the guns in the forefront and so completely demonstrated their importance to the Rangers' legend."—Darren L. Ivey, author of The Ranger Ideal Volume 1 and Volume 2

"Firearms of the Texas Rangers is the story of how the iconic lawmen have armed and defended themselves across three centuries under five flags. It is meticulously grounded in fact, more interesting than oft-repeated legends. Dukes traces the evolution, advantages and drawbacks of the 'guns that won Texas and the West.' In doing so he has created the definitive work that will appeal to western history buffs, historians and firearms enthusiasts for generations to come."—Byron Johnson, Director, Texas Ranger Hall of Fame and Museum, Waco

"With a masterful touch, the author has put to paper a stirring treatment about the Lone Star State's iconic Texas Rangers and their functional adaptation to ever-evolving technology. Drawing from professional experience as a retired Texas peace officer with a recognized expertise in the field of firearms development and application, Doug Dukes is perfectly positioned to write this book. With proven storytelling skill he has splendidly blended history of both the men and their guns. Nonfiction writers will want this book in their libraries as a must-have research tool. Texas Ranger aficionados will treasure the riveting read."—Bob Alexander, author of Old Riot, New Ranger: Captain Jack Dean, Texas Ranger and US. Marshal and co-author of Texas Rangers: Lives, Legend, And Legacy

"Doug Dukes has done much research of original documents, interviews, and studies to put together a history of the Texas Rangers emphasizing the firearms.  It is most interesting and informative."—Texas Ranger Sgt. Joey D. Gordon, Co. F, Llano (Retired)

"A much-needed scholarly approach towards identifying the weapons utilized by the Texas Rangers. Monumental in both its scope and detail, Doug's chronicle has much to offer both the serious Ranger student, and the casual interest reader. I heartily recommend this extensive narrative which highlights the deadly, but necessary tools of the Ranger trade."—Don Jones, Historian, Colt Collectors Association

"This fascinating and well-told story of nearly 200 years of Ranger history describes the transformation of the most famous law enforcement body in the world and how the technology of weapons changed it. . . . [T]his major work will provide new information, not only in the narration but in the photograph galleries."--Tombstone Epitaph

"[W]ill undoubtedly appeal to serious Ranger historians, arms students and casual readers. With a battalion full of fascinating original source information and interviews, Dukes offers riveting reading about the ever-changing guns, ammunition and tactics of this highly respected force. As a former lawman, Dukes knows firsthand the work."--True West

"[Doug Dukes] has produced a massive book, filled with illustrations and information of interest to both gun collectors and fans of the Texas Rangers. . . . Quite readable and informative."--Wild West History Association Journal