The Book Lover's Treasury of Quotations: An Inspired Collection on Reading, Writing and Literature (Paperback)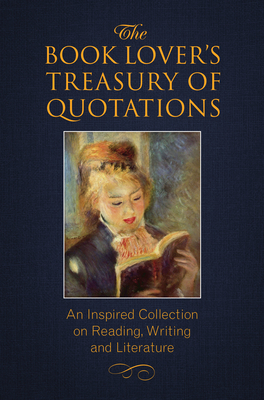 Description
---
Rich with meaningful quotes, heartfelt humor and witty one-liners, The Book Lover's Treasury of Quotations brings together the best and brightest to speak on all that books have to offer. Whether it's their ability to transport us to exciting new worlds, or the way they open our eyes to new ways of seeing our own, The Book Lover's Treasury of Quotations speaks to the lifelong reader in each of us.
 
Simple and accessible for all ages, this delightful title welcomes readers to share in the many wonderful experiences that reading can offer. An affordable and simple gesture, this enjoyable title adds a little meaning to any gift or occasion…and is impossible to resist. Beautifully assembled in an easy-to-follow format, The Book Lover's Treasury of Quotations is the perfect gift for the book lover in your life.
 
Turning to the first page in a new book and beginning a brand new journey is the sort of excitement that you can't find anywhere else. Whether it's a gripping mystery, a timeless romance or a thrilling adventure, reading is one of the most important and personally fulfilling things a person can do. The Book Lover's Treasury of Quotations collects the wisdom on offer from reading and puts them all in one place—in an attractive volume that fits in your pocket!
 
The Book Lover's Treasury of Quotations collects over 200 quotes of the literary laughs and lessons that only books can provide!
About the Author
---
Jo Brielyn is an author and contributing writer for Hatherleigh Press and has currently completed 16 nonfiction books about health and wellness. Jo holds a Bachelors of Science degree in Education, Training and Development. She is the founder, writer, and editor of Creative Kids Ideas, a resource website that supplies parents, teachers, and family members with the tips and fun ideas to help build stronger, happier, and more creative kids. Jo is also a veteran of the United States Air Force and a former youth leader. She resides in Central Florida with her husband and their two daughters. Jo is the co-author of Combat Fat for Kids and The Greek Yogurt Diet.