10 Most Common Chess Mistakes (Paperback)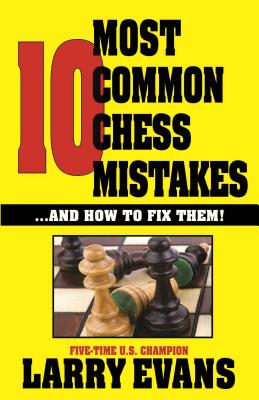 Description
---
This fascinating collection of 221 errors, misplays, oversights, and outright blunders shows the price that great players pay for violating basic chess principles and how they can avoid these mistakes in their own game.

A fascinating collection of 221 typical errors committed by the world's greatest players challenges you to test your skills by choosing between two moves: the right one, or the one actually played. You will be amazed at how even world champions make errors in critical situations and violate the basic principles of chess. From neglecting development and king safety, misjudging threats, and premature attacks to impulsiveness, snatching pawns, and basic inattention, you get a complete course in exactly what not to do.
About the Author
---
Grandmaster Larry Evans was a 5-time USA champion, author of 25 books, and the "dean" of American chess. His national syndicated column, Evans on Chess, appeared continuously for more than 40 years. He coached Bobby Fischer during his world championship run and was generally considered to be the most authoritative, astute and witty observer of the international chess scene.