There are no products in your shopping cart.
A Long Pitch Home (Paperback)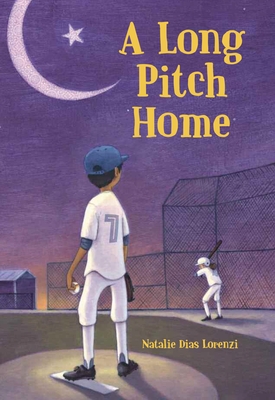 Description
---
Ten-year-old Bilal liked his life back home in Pakistan. He was a star on his cricket team. But when his father suddenly sends the family to live with their aunt and uncle in America, nothing is familiar. While Bilal tries to keep up with his cousin Jalaal by joining a baseball league and practicing his English, he wonders when his father will join the family in Virginia. Maybe if Bilal can prove himself on the pitcher's mound, his father will make it to see him play. But playing baseball means navigating relation-ships with the guys, and with Jordan, the only girl on the team—the player no one but Bilal wants to be friends with. A sensitive and endearing contemporary novel about family, friends, and assimilation.
About the Author
---
Natalie Dias Lorenzi is a traveler, writer, wife, mother, and teacher, specializing in English as a Second Language. She has taught in Japan and Italy, and now teaches in a Washington, DC–area school where 85% of the students are immigrants. She also writes curriculum guides to new books for writers and publishers. Flying the Dragon is her first novel.
Praise For…
---
When his family moves from Pakistan to America, a Muslim boy who loves cricket faces a year of adjustment and life without his father. Just before his 10th birthday, Bilal moves from Karachi to Virginia with his mother and younger siblings to live with extended family until his father, Baba, can join them. When his cousin enrolls him in summer baseball camp because baseball's "America's version of cricket," Bilal's days are filled with endless "sames and differents." A champion cricket player in Karachi, Bilal knows he's the worst baseball player on a team where the best player's a girl named Jordan. As the year passes, Bilal improves at baseball, completes ESL classes, and gradually assimilates into school while desperately waiting for Baba. When Bilal learns Jordan's father's deployed to Afghanistan, they bond, despite resentment from male teammates. In a thoughtful, honest narration, Bilal describes his confusion over English words and American customs, fears of rejection, emerging friendships, growing prowess as a pitcher, acceptance by team members, and constant longing for Baba. As she did in Flying the Dragon (2012), Lorenzi sympathetically captures the challenges of cultural relocation. A warm, sensitive, realistic portrait of a Muslim boy adjusting to contemporary America.
- Kirkus Reviews

Bilal's world is turned upside down when his father disappears for three days from their home in Karachi, Pakistan. After his father returns just as unexpectedly, Bilal, his mother, and his two siblings leave almost immediately for America to live with his uncle's family. Bilal slowly learns that his father has been accused of a crime he didn't commit and must clear his name before he can join them. Although Bilal's extended family in Virginia is welcoming, the 10-year-old longs for his father and life back home. Lorenzi (Flying the Dragon) uses Bilal's candid first-person perspective to bring readers into his struggles, including trading his favorite sport--cricket--for baseball. It's through baseball that Bilal befriends Jordan, a girl who also misses her father, a soldier in Afghanistan. Filled with details about Pakistani and Muslim life (Bilal is shocked by the swimming attire at the local pool: "Aren't the adults embarrassed to be half-naked in front of everyone?"), Lorenzi's novel offers a sensitive look at the cultural merging that accompanies immigration.
- Publishers Weekly

Bilal's 10th birthday doesn't go as he planned: after his father encounters some trouble at work, Bilal, his siblings, and his mother get visas to live with their family in Virginia while Bilal's father stays on in Pakistan for the time being. Immediately upon arriving in America, Bilal notices that some things are the same--familiar Pakistani foods and Muslim customs--yet other things are startlingly different. The English Bilal learned in Karachi seems different from the language spoken by everyone around him. Bilal, an excellent cricket player, is dismayed to learn that Americans play baseball. He begins to make friends during summer baseball camp, yet not everything works out well. Bilal doesn't quite understand why his teammates are so mad that a girl has made their team, he is embarrassed by his baseball abilities and need for ESL classes at school, and he misses Pakistan and, above all, his father. Lorenzi weaves a coherent narrative that includes many issues a new immigrant, as well as any fifth grader, might encounter. The author avoids stereotypes and inspires empathy for Bilal; it is clear Lorenzi has infused this tale with what she's learned as an ESL specialist and also done her research to ensure an accurate portrayal of the life of a young Pakistani immigrant. Add this title to your shelves, and pitch it to kids who like sports stories and moving realistic novels.
- School Library Journal

When 10-year-old Bilal moves from Pakistan to Virginia, it's not just his favorite sport--cricket--that he misses but also his much beloved father, who had to temporarily stay behind. His older cousin suggests that Bilal join the baseball team in order to make new friends and learn English, but baseball isn't anything like cricket! To make matters worse, there's a girl on the team who's better than everyone, drawing the team's wrath, but Bilal actually likes her. How can he adjust to a new sport, a new language, and a new culture while waiting for his dad to join the family? This sensitive middle-grade novel is an excellent introduction to cricket, culture shock, and what life may be like for some recent immigrants. Bilal's diverse friends are somewhat refreshingly more concerned with the fact that there's a girl on their team than his heritage. Although the ending is predictable, for fans of Firoozeh Dumas' It Ain't So Awful, Falafel (2016) and readers looking for a sports book with heart, this will be a home run.
- Booklist