Wayne Thom: Photographing the Late Modern (Hardcover)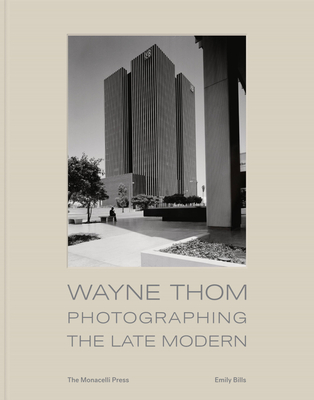 Description
---
The first monograph of photographer Wayne Thom, whose documentation of Late Modern architecture constitutes an architectural/visual archive unlike any other. A key primer to late-twentieth century Modernism, this monograph devoted to Wayne Thom chronicles his photographic practice and the architectural and urban environment in which he worked.
An innovative chronicler of the booming West Coast urbanism of the 1960s and 70s, Thom's photographs of key projects by path-breaking architecture firms such as William Pereira & Associates, Edward Durell Stone, SOM, Gio Ponti, John Portman, I. M. Pei, and A. Quincy Jones helped establish the idea of cool architectural glamour of the era.
Raised in Hong Kong, Thom moved to California in the mid-1960s and trained in the technical craftsmanship of photography, adept at harnessing natural light for both interior and exterior compositions.
He soon began working with the figures who would become his clients and benefactors, most importantly William Pereira and A. Quincy Jones, a prolific architect and Dean of the School of Architecture at USC. As Emily Bills critically assess Thom's career, she demonstrates that his photography became inseparable from Late Modernism in the popular imagination, a period of architectural production that ran from the late 1960s through the 1980s.
Wayne Thom: Photographing the Late Modern is a celebration of this key architectural photographer and a unique chronicle of the works of this transformative period of architectural expression.
About the Author
---
Wayne Thom was born in Shanghai in 1933. His work, which spans five decades, documents modern architecture throughout the Western United States and the Pacific Rim, with the bulk of his work documenting the greater Los Angeles area. Thom is the recipient of numerous awards and honors, including the Modern Masters Award of the Los Angeles Conservancy (2015), and life membership in the Professional Photographers of America. He has worked with significant modern architects of the twentieth- and twenty-first centuries including A. Quincy Jones, William Pereira, Arthur Erickson, John Portman, Gio Ponti, SOM, and his brother, Bing Thom.
Emily Bills is an author, curator, and faculty at Woodbury University. Dr. Bills has contributed essays to books on architectural and urban history, including Michigan Modern: Design That Shaped America and Visual Merchandising: The Image of Selling. Her coauthored book California Captured, Mid-Century Modern Architecture (Phaidon, 2018) won a Glenn Goldman Art, Architecture & Photography Award by the Southern California Independent Booksellers Association for its perspective on the life and work of architectural photographer Marvin Rand. Her next book, Linking Up Los Angeles: How the Telephone Built a City, is forthcoming from the University of Pittsburgh Press.
Praise For…
---
"Wayne Thom photographed the power of 1970s architecture. He's finally getting his due." - Los Angeles Times
"Readers will discover over 200 shots, recording trailblazing structures by I. M. Pei and Gio Ponti. Glowing colour prints are set against high contrast monochrome compositions, offering a visual spectacle." - Aesthetica Magazine
"[Includes] page after page of Thom's remarkable photographs..." - Archidose