Blood in the Water: A True Story of Small-Town Revenge (Paperback)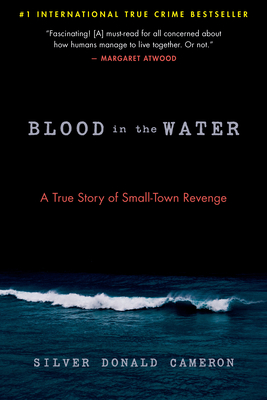 $17.00

Usually arrives at our store within 4-7 days
Description
---
"Fascinating! [A] must-read for all concerned about how humans manage to live together. Or not." —Margaret Atwood

"Superb... an instant true crime classic." —Publishers Weekly (starred review)

A masterfully told true story, perfect for fans of Say Nothing and Furious Hours: a brutal murder in a small Nova Scotia fishing community raises urgent questions of right and wrong, and even the very nature of good and evil.


In his riveting and meticulously reported final book, Silver Donald Cameron offers a stunning, intricate narrative about a notorious killing and its devastating repercussions.

Cameron's searing, utterly gripping story about one small community raises a disturbing question: Are there times when taking the law into your own hands is not only understandable but the responsible thing to do?

In June 2013, three upstanding citizens of a small town on Cape Breton Island murdered their neighbor, Phillip Boudreau, at sea.

While out checking their lobster traps, two Landry cousins and skipper Dwayne Samson saw Boudreau in his boat, the Midnight Slider, about to vandalize their lobster traps. Like so many times before, the small-time criminal was about to cost them thousands of dollars out of their seasonal livelihood.

Boudreau seemed invincible, a miscreant who would plague the village forever. Meanwhile the police and local officials were frustrated, cowed, and hobbled by shrinking budgets.

One of the men took out a rifle and fired four shots at Boudreau and his boat.

Was the Boudreau killing cold blooded murder, a direct reaction to credible threats, or the tragic result of local officials failing to protect the community? As many local people have said, if those fellows hadn't killed him, someone else would have...
About the Author
---
SILVER DONALD CAMERON's literary works included plays, films, radio and TV scripts, hundreds of magazine articles, and nineteen books. Cameron had also been a professor or writer-in-residence at seven universities and Dean of Community Studies at Cape Breton University. In 2019 he was appointed the first Farley Mowat Chair in Environment at Cape Breton University. He died in June 2020, soon after completing the manuscript of Blood in the Water.
Praise For…
---
Shortlisted for The 2021 Crime Writers of Canada Awards of Excellence.

"Loving, intimate look at Acadian culture. . .  [and a] courtroom drama [that] asks big questions beyond simply 'Who done it?'"
--The Minneapolis Star Tribune

"This is an instant true crime classic."
--Publishers Weekly (starred review)

"...an absorbing study of the way an isolated community handles conflict as well as the failures of the Canadian legal system."
--Booklist

"How a small fishing community responded to the violent death of one of its most notorious citizens . . . Cameron artfully links the central drama to broader discussions about socio-economic inequality, natural resource management, police interrogation tactics, and the consequences of a loss of faith in law and order . . . An often gripping, insightful examination of a well-known crime and the Acadian milieu in which it took place."
--Kirkus Reviews

"Silver David Cameron knew intimately the Cape Breton community where the brutal murder of a local who was vandalizing lobster traps took place. But instead of that insider knowledge giving him too narrow a focus, it enables him to see beyond the broad strokes of the story -- and so bring to life ideas about power, law, vigilantism and community."
--Toronto Star

A "masterful true account of a celebrated small-town murder."
--The Globe and Mail

"It became known as the 'murder for lobster' case. But that description . . . comes nowhere near capturing the complexities of the crime and its effects on the local community. [Cameron] successfully weaves together courtroom drama, memoir, and an insightful exploration of people and place . . . While much time is spent in a courtroom, Blood in the Water is not particularly concerned with innocence and guilt. It's a book about place, relationships, and our responsibilities to each other."
--Quill & Quire

"A dramatic narrative set in a unique, lovingly drawn setting, where a story about one small community has universal resonance. This is a story not about lobster, but about the grand themes of power and law, security and self-respect."
--CBC

"A vibrant portrait of a hardscrabble town . . . Blood in the Water demonstrates how even the quietest towns are capable of explosive violence."
--Foreword Reviews