The Loneliness Epidemic: Why So Many of Us Feel Alone--And How Leaders Can Respond (Hardcover)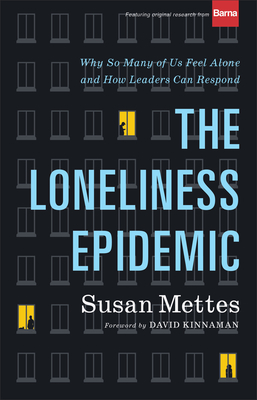 Description
---
What makes people lonely? And how can Christian communities better minister to the lonely? In The Loneliness Epidemic, behavioral scientist and researcher Susan Mettes explores those questions and more.

Guided by current research from Barna Group, Mettes illustrates the profound physical, emotional, and social toll of loneliness in the United States. Surprisingly, her research shows that it is not the oldest Americans but the youngest adults who are loneliest and that social media can actually play a positive role in alleviating loneliness. Mettes highlights the role that belonging, friendship, closeness, and expectations play in preventing it. She also offers meaningful ways the church can minister to lonely people, going far beyond simplistic solutions--like helping them meet new people--to addressing their inner lives and the God who understands them.

With practical and highly applicable tips, this book is an invaluable tool for anyone--ministry leaders, parents, friends--trying to help someone who feels alone. Readers will emerge better able to deal with their own loneliness and to help alleviate the loneliness of others. Foreword by Barna Group president David Kinnaman.
About the Author
---
Susan Mettes (MA, Duke University) is a behavioral scientist with extensive prior experience conducting research for faith-based organizations, including Barna Group, Thrivent Financial, and World Vision. Previously, she served as an editor for Christianity Today magazine. She also has written dozens of articles for Christianity Today and other publications. Mettes currently lives in Tanzania.