Murder in Montparnasse: A Phryne Fisher Mystery (Phryne Fisher Mysteries #12) (Large Print / Paperback)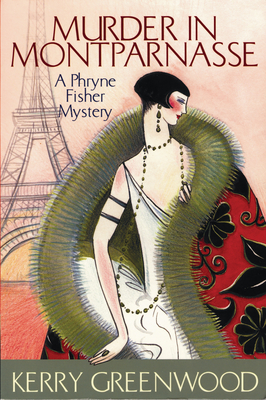 Other Books in Series
This is book number 12 in the Phryne Fisher Mysteries series.
Description
---
Always enticing in divine twenties fashion, Phryne, one of the most exciting and likeable heroines in crime writing today, leads us through a tightly plotted maze of thrilling adventure set in 1920s Australia. The divine Phryne Fisher returns to lead another dance of intrigue. Seven Australian soldiers, carousing in Paris in 1918, unknowingly witness a murder and their presence has devastating consequences. Ten years later, two are dead ... under very suspicious circumstances. Phryne's wharfie mates, Bert and Cec, appeal to her for help. They were part of this group of soldiers in 1918 and they fear for their lives and for those of the other three men. It's only as Phryne delves into the investigation that she, too, remembers being in Montparnasse on that very same day. While Phryne is occupied with memories of Montparnasse past and the race to outpace the murderer, she finds troubles of a different kind at home. Her lover, Lin Chung, is about to be married. And the effect this is having on her own usually peaceful household is disastrous.
About the Author
---
Kerry Greenwood was born in the Melbourne suburb of Footscray and after wandering far and wide, she returned to live there. She has degrees in English and Law from Melbourne University and was admitted to the legal profession on the 1st April 1982, a day which she finds both soothing and significant. Kerry has written three series, a number of plays, including The Troubadours with Stephen D'Arcy, is an award-winning children's writer and has edited and contributed to several anthologies. The Phryne Fisher series (pronounced Fry-knee, to rhyme with briny) began in 1989 with Cocaine Blues which was a great success. Kerry has written twenty books in this series with no sign yet of Miss Fisher hanging up her pearl-handled pistol. Kerry says that as long as people want to read them, she can keep writing them. In 2003 Kerry won the Lifetime Achievement Award from the Australian Association.