Blood and Circuses (Phryne Fisher Mysteries) (Large Print / Paperback)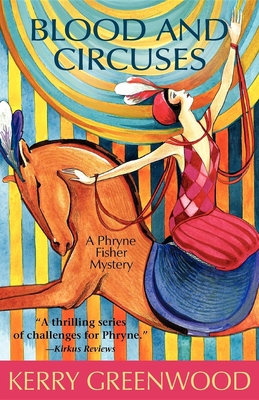 Other Books in Series
This is book number 6 in the Phryne Fisher Mysteries series.
Description
---
From the author of the bestselling Phryne Fisher Series comes Blood and Circuses, the next historical mystery featuring an unstoppable, elegant amateur sleuth. Can Miss Fisher uncover the truth without losing her life?
Looking for a thrilling detective novel? This story is:
Perfect for Fans of Rhys Bowen and Jacqueline Winspear
Inspired the Netflix show Miss Fisher's Murder Mysteries
Movie Currently Streaming on Acorn TV
Phryne Fisher is bored. Life appears to be too easy, too perfect. Her household is ordered, her love life is pleasant, the weather is fine. And then a man from her past arrives at the door. It is Alan Lee from the carnival. Alan and his friends want her to investigate strange happenings at Farrells Circus, where animals have been poisoned and ropes sabotaged. Mr. Christopher has been found with his throat cut in Mrs. Witherspoon's irreproachable boarding house and Miss Parkes, an ex-performer, is charged with his murder.
Phryne must go undercover deeper than ever to solve the circus malaise. She must abandon her name, her title, her protection, her comfort, even her clothes. She must fall off a horse twice a day until she can stay on. She must sleep in a girls' tent and dine on mutton stew. She must find some allies—and maybe a circus romance. Meanwhile, in Melbourne, the young and fresh-faced policeman Tommy Harris has to solve his own mysteries with the help of the foul-spoken harridan Lizard Elsie, or Miss Parkes will certainly hang. Can Phryne take on this great circus mystery before disaster strikes?
About the Author
---
Kerry Greenwood was born in the Melbourne suburb of Footscray and after wandering far and wide, she returned to live there. She has degrees in English and Law from Melbourne University and was admitted to the legal profession on the 1st April 1982, a day which she finds both soothing and significant. Kerry has written three series, a number of plays, including The Troubadours with Stephen D'Arcy, is an award-winning children's writer and has edited and contributed to several anthologies. The Phryne Fisher series (pronounced Fry-knee, to rhyme with briny) began in 1989 with Cocaine Blues which was a great success. Kerry has written twenty books in this series with no sign yet of Miss Fisher hanging up her pearl-handled pistol. Kerry says that as long as people want to read them, she can keep writing them. In 2003 Kerry won the Lifetime Achievement Award from the Australian Association.