Murder in the Dark (Phryne Fisher Mysteries) (Large Print / Paperback)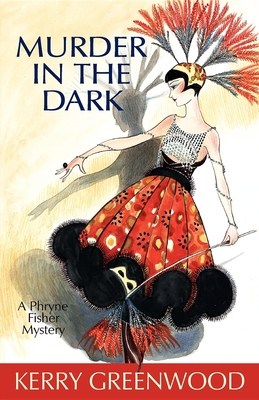 Other Books in Series
This is book number 16 in the Phryne Fisher Mysteries series.
Description
---
"One of the most exciting and dangerous of the adventures into which Phryne's fabulous and risky lifestyle has led her" —Kirkus Reviews
It's Christmas, and Phryne has an invitation to the Last Best party of 1928, a four-day extravaganza being hosted at the Werribee Manor House by the Golden Twins, Isabella and Gerald Templar. Phryne is of two minds about going. But when threats begin arriving in the mail, she promptly decides to accept the invitation. No one tells Phryne Fisher what to do.
At the Manor House, she is accommodated in the Iris room. At the party she dallies with two polo-playing women, a Goat lady (and goat), a large number of glamourous young men, and an extremely rude child called Tarquin.
The acolytes of the golden twins are smoking hashish and dreaming. The jazz is hot and the drinks are cold. Heaven. Until three people are kidnapped, one of them the abominable child. Phryne must puzzle through the cryptic clues of the scavenger hunt to retrieve the hostages and save the party from further disaster.
About the Author
---
Kerry Greenwood was born in the Melbourne suburb of Footscray and after wandering far and wide, she returned to live there. She has degrees in English and Law from Melbourne University and was admitted to the legal profession on the 1st April 1982, a day which she finds both soothing and significant. Kerry has written three series, a number of plays, including The Troubadours with Stephen D'Arcy, is an award-winning children's writer and has edited and contributed to several anthologies. The Phryne Fisher series (pronounced Fry-knee, to rhyme with briny) began in 1989 with Cocaine Blues which was a great success. Kerry has written twenty books in this series with no sign yet of Miss Fisher hanging up her pearl-handled pistol. Kerry says that as long as people want to read them, she can keep writing them. In 2003 Kerry won the Lifetime Achievement Award from the Australian Association.
Praise For…
---
"The sixteenth Fisher novel has all the qualities of its forerunners: a snazzy, jazzy, outspoken heroine; a cast of engaging supporting players; and a sharply plotted mystery. As usual, too, the author vividly creates the setting—1920s-era Melbourne—and really makes us feel as though we've spent some time there. Another strong entry in a consistently entertaining series." –Booklist of Murder in the Dark "One of the most exciting and dangerous of the adventures into which Phryne's fabulous and risky lifestyle have led her." –Kirkus Reviews of Murder in the Dark "Australian author Greenwoodas fine Phryne Fisher mystery combines suspense and humor with a taut race to unmask a master assassin before he can strike again. The irrepressible and defiantly unflappable Phryne Fisher decides to attend a lavish four-day celebration in Melbourne, athe Last Best Party of 1928, a despite anonymous and deadly warnings to keep away, which include a coral snake. One of the partyas hosts, Gerald Templar, becomes worried after Tarquin, the orphan boy heas adopted, disappears. The connection between Tarquinas vanishing and the escalating acts of violence from the killer who calls himself the Joker is far from obvious, and Fisher has no shortage of suspects to consider among the eccentric guests, including a man whoas modeled himself on Oscar Wilde. The Jokeras identity will surprise many readers, but as usual for this long-running series (/Cocaine Blues/, etc.), the major pleasures come from Greenwoodas wry voice and the larger-than-life Fisher." -- Publishers Weekly of Murder in the Dark