Queen of the Flowers (Phryne Fisher Mysteries) (Paperback)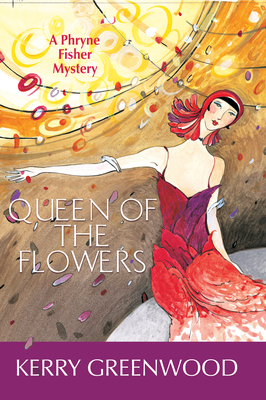 Description
---
The circus is in town, and St Kilda is having its first Flower Festival, which includes a parade. And who should be Queen of said Flowers but the Honourable Phryne Fisher? She has dresses to purchase, cinemas to visit, and agreeable cocktails to drink.
One of her flower maidens, however, is unstable and has vanished. Phryne investigates through the underworld with the help of Bert, Cec, and her little beretta. She is also assisted in this task by an old flame from Orkney, the owner of the most exclusive brothel in St Kilda, and several elephants.
But when her own adopted daughter Ruth goes missing, Phryne is determined that nothing will stand in the way of her retrieving her lost child.
About the Author
---
Kerry Greenwood was born in the Melbourne suburb of Footscray and after wandering far and wide, she returned to live there. She has degrees in English and Law from Melbourne University and was admitted to the legal profession on the 1st April 1982, a day which she finds both soothing and significant. Kerry has written three series, a number of plays, including The Troubadours with Stephen D'Arcy, is an award-winning children's writer and has edited and contributed to several anthologies. The Phryne Fisher series (pronounced Fry-knee, to rhyme with briny) began in 1989 with Cocaine Blues which was a great success. Kerry has written twenty books in this series with no sign yet of Miss Fisher hanging up her pearl-handled pistol. Kerry says that as long as people want to read them, she can keep writing them. In 2003 Kerry won the Lifetime Achievement Award from the Australian Association.