The Complete Encyclicals, Bulls, and Apostolic Exhortations: Volume 1 (Paperback)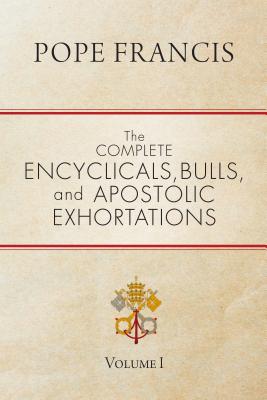 $27.95

Usually arrives at our store within 4-7 days
Description
---
"Spirituality & Practice 2016 Award Winner."
For the first time, all five major writings of Pope Francis--his encyclicals, bulls, and apostolic exhortations--are gathered into one volume. Pope Francis--the 266th pontiff of the Roman Catholic Church--was elected on March 13, 2013. Since then, he has been the most influential religious leader in the world, drawing praise and admiration from people of all faiths. The impact of his writings has been felt not just in the Catholic Church for which they were intended but throughout the world. Each of the five works collected in
The Complete Encyclicals, Bulls, and Apostolic Exhortations
is a book unto itself, so this volume is one that can be cherished, read, and reread by all Catholics and devotees of Pope Francis for many years to come. Volume 1 includes:
Lumen Fidei, June 29, 2013: The Light of Faith is an encyclical on the centrality of faith, the relationship between reason and faith, the Church's role in the transmission of faith, and how faith results in redeeming the world.
Evangelii Gaudium, Nov. 24, 2013: The apostolic exhortation The Joy of the Gospel has been called Pope Francis's manifesto. It challenges all Christians to approach evangelization anew and overcome complacency in order to fulfill Christ's great mission.
Misericordiae Vultus, April 11, 2015: In The Face of Mercy, the papal bull for the Extraordinary Jubilee of Mercy in 2015, the pope urges Catholics, "We need constantly to contemplate the mystery of mercy."
Laudato Si', May 24, 2015: Praise Be to You: On Care for Our Common Home is the landmark encyclical in which Pope Francis issued a call to the entire Church--and the world--on climate change, human responsibility, the role of faith in how we live among God's entire creation, and the future of the planet.
Amoris laetitia, March 19, 2016: Love in the Family is an exhortation published after the Synods on the Family. In it, Pope Francis ranges in his quotations and examples from St. Thomas Aquinas and Martin Luther King Jr. to the film Babette's Feast.
The Complete Encyclicals, Bulls, and Apostolic Exhortations
received an Honorable Mention in the 2017 Catholic Press Association Book Awards: Pope Francis Books.
About the Author
---
Pope Francis was born Jorge Mario Bergoglio in Buenos Aires, Argentina, to parents of Italian descent. He was ordained a Jesuit priest in 1969, ordained auxiliary bishop of Buenos Aires in 1992, installed as bishop in 1998, and elevated to cardinal in 2001. He was elected by the College of Cardinals in March 2013 as the 266th pontiff of the Roman Catholic Church and took the name Francis for St. Francis of Assisi. He is the first Jesuit pope, the first pope from the Americas, and the first non-European pope in more than twelve centuries.