History's Queen: Exploring Mary's Pivotal Role from Age to Age (Paperback)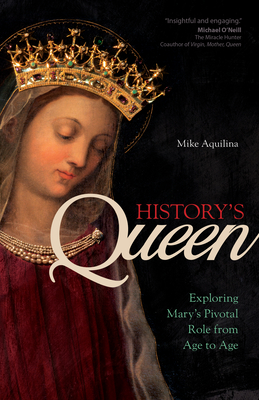 Description
---
The Virgin Mary's part in history doesn't begin and end with her yes to God. Popular Catholic author Mike Aquilina points out that Mary is at the center of history from creation to the end of time and everywhere in between. In History's Queen, you'll learn about the many ways the mother of humanity has left her mark on the great events of time, not only as we see them in the Bible, but also in pivotal events such as Fatima, the battle of Lepanto, and the plague.
In this journey through two thousand years of Mary's active participation in world events, each chapter of History's Queen highlights a Marian intervention that is emblematic of a particular era, and opens our eyes to the ways in which Mary provides a vital key for understanding both our past and our future.
Mike Aquilina--author of The History of the Church in 100 Objects and editor of the Reclaiming Catholic History series--provides a fresh, fascinating, and classical view of history to today's readers, exploring:
Mary's centrality in the Church Fathers' view of history;
Mary's role in preserving Byzantium during the explosive rise of Islam;
Marian devotion in medieval Ireland that inspired generations of great missionaries;
Mary's role in military victories at Lepanto and Vienna; and
the message of peace received by three shepherd children in Fatima that sustained the world through a century of unprecedented violence and apostasy.
About the Author
---
Mike Aquilina is a Catholic author, speaker, poet, and songwriter who serves as the executive vice president of the St. Paul Center for Biblical Theology. He is a contributing editor to Angelus News and his podcast, Way of the Fathers, drops twice monthly at CatholicCulture.org.Aquilina is the author or editor of more than sixty books, including The Fathers of the Church, The Mass of the Early Christians, and Angels of God. Aquilina has cohosted eleven series on EWTN and hosted two documentaries. Aquilina wrote the companion volumes to the NBC miniseries A.D.: The Bible Continues (2015) and the MGM remake of the movie Ben-Hur (2016). His book A History of the Church in 100 Objects earned an honorable mention in the 2018 Catholic Press Association awards. He is the editor of the Reclaiming Catholic History series and wrote The Church and the Roman Empire (301-490).He has published hundreds of articles, essays, and reviews in periodicals such as First Things, Crisis, National Catholic Register, The Priest, Columbia, and Our Sunday Visitor. He is a frequent guest on TV and radio, including a weekly appearance on the Son Rise Morning Show.Aquilina previously served as editor of New Covenant magazine and The Pittsburgh Catholic. He has received honors from the Catholic Press Association, including "Best Magazine" for New Covenant during his editorship and best book in the category of biography.He lives in the Pittsburgh, Pennsylvania, area with his wife, Terri. They have six children.