Spiritual Journaling: Writing Your Way to Independence (Paperback)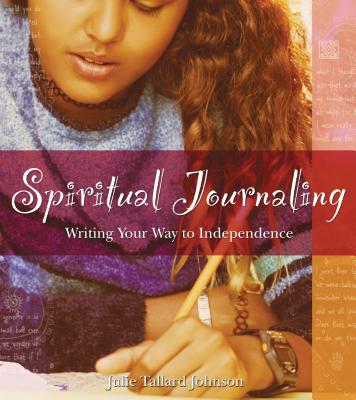 This item is not available.
Description
---
A guide for teens and young adults on the power of creative journaling and its role in enhancing self-discovery and self-awareness

• Provides encouragement for creative writing, self-expression, and self-dialogue

• Includes journaling exercises to inspire creativity and cultivate self-esteem

• By the author of Teen Psychic and The Thundering Years, winner of the 2002 Independent Publisher Book Award for multicultural juvenile nonfiction

Most teens and young adults search for ways to express their individuality and to discover who they are, without being judged. In Spiritual Journaling Julie Tallard Johnson shows that journaling is an informative and supportive outlet for the joys, frustrations, and questions that arise for those making the transition toward their own independent ideas and lives--and a powerful tool for awakening creative potential.

Johnson encourages young people to discover their own unique voices by offering guidance on writing and other forms of self-expression and self-dialogue and on learning how to listen to inner wisdom. As readers move through the book and write in their own personal journals, they gain insight about themselves--knowledge reflected in their own words and the writing of other young people included in the book. The journaling tools provided include meditations, consulting oracles, writing poetry, visualizations, writing rituals, and problem solving around spiritual questions.
About the Author
---
A licensed psychotherapist and creative writing teacher, Julie Tallard Johnson has kept journals since the age of sixteen discovering how the writer and spiritual path are one and the same. She has spent the last thirty years working with individuals and groups to help them discover a spiritual practice that brings them a sense of purpose and happiness. The author of many books for teens including Teen Psychic, Spiritual Journaling, The Thundering Years, I Ching for Teens and Making Friends, Falling in Love, which was recognized by the New York Public Library as one of the best books for teens, she lives in Spring Green, Wisconsin.
Visit the author's web site at www.Julietallardjohnson.com
Praise For…
---
"Throughout the book are stories, discussions, and exercises, all aimed at showing us how, through the tool of journaling, we can gain a clear view of our past so that we see where we came from, how we got where we are today, and how we can stay on our individual paths for the future. This book is meant to tear away the illusion of what we are hungry for, and allow us to discover what the real thing is, and how we can get it for ourselves."
— Angelfire.com, April 2006

". . . written with the young adult in mind . . . . Its inventive, different journaling techniques use meditations, oracle consultation, visualization rituals and more to aid the writing process, providing a satisfying mix of new age technique and writing advice."
— Diane Donovan, California Bookwatch, May 2006

"What a wonderful book to help a teen or young adult gain insight into their identity and life's purpose! Lots of writing exercises, but this book is constructed to make these a joy instead of a homework-type chore. . . . Spiritual Journaling: Writing Your Way to Independence is a great book for a young person interested in self-exploration or going through a transition."
— Galina Pembroke, New View, May 2006

"This is a powerful tool for awakening the imaginative voice in any young adult and helping them realize their very own creative potential, truly a priceless gift."
— Vision Magazine, May 2006