Freewaytopia: How Freeways Shaped Los Angeles (Paperback)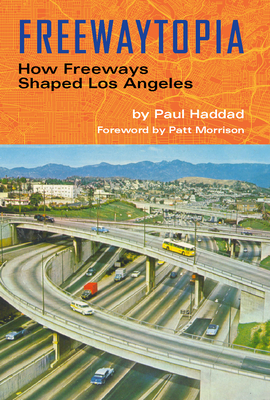 Description
---
Freewaytopia: How Freeways Shaped Los Angeles explores how social, economic, political, and cultural demands created the web of freeways whose very form--futuristic, majestic, and progressive--perfectly exemplifies the City of Angels.
From the Arroyo Seco Parkway, which began construction during the Great Depression, to the Century Freeway, completed in 1993, author Paul Haddad provides an entertaining and thought-provoking history of the 527 miles of roadways that comprise the Los Angeles freeway system.
Each of Los Angeles's twelve freeways receives its own chapter, and these are supplemented by "Off-Ramps"--sidebars that dish out pithy factoids about Botts' Dots, SigAlerts, and all matter of freeway lexicon, such as why Southern Californians are the only people in the country who place the word "the" in front of their interstates, as in "the 5," or "the 101."
Freewaytopia also explores those routes that never saw the light of day. Imagine superhighways burrowing through Laurel Canyon, tunneling under the Hollywood Sign, or spanning the waters of Santa Monica Bay. With a few more legislative strokes of the pen, you wouldn't have to imagine them--they'd already exist.
Haddad notably gives voice to those individuals whose lives were inextricably connected--for better or worse--to the city's freeways: The hundreds of thousands of mostly minority and low-income residents who protested against their displacement as a result of eminent domain. Women engineers who excelled in a man's field. Elected officials who helped further freeways . . . or stop them dead in their tracks. He pays tribute to the corps of civic and state highway employees whose collective vision, expertise, and dedication created not just the most famous freeway network in the world, but feats of engineering that, at their best, achieve architectural poetry. And let's not forget the beauty queens--no freeway in Los Angeles ever opened without their royal presence.
Freewaytopia is part colorful lore, part civic and historical critique, and part homage to the most famous freeways in the world.
About the Author
---
Paul Haddad's books include the Los Angeles Times bestseller, 10,000 Steps a Day in L.A.: 57 Walking Adventures, and High Fives, Pennant Drives, and Fernandomania: A Fan's History of the Los Angeles Dodgers' Glory Years, 1977-1981 (named one of the Best Baseball Books of 2012 by the Daily News). As a Hollywood-born native, he has written about Los Angeles for the Los Angeles Times and hosted a column on Huffington Post about L.A.'s forgotten history. He has authored three award-winning novels, including the L.A. Noir Paradise Palms: Red Menace Mob. A graduate of University of Southern California's School of Cinematic Arts, Haddad has been nominated for multiple Emmys as a documentary producer. PaulHaddadBooks.com @la_dorkout Patt Morrison is a journalist, best-selling author, and radio-television personality based in Los Angeles and Southern California. Morrison has a share of two Pulitzer Prizes as a longtime Los Angeles Times writer and columnist. As a public television and radio broadcaster, she has won six Emmys and a dozen Golden Mike awards.