The Power Makers: Steam, Electricity, and the Men Who Invented Modern America (Hardcover)
×
Warning message
Mean Menu style requires
jQuery
library version 1.7 or higher, but you have opted to provide your own library. Please ensure you have the proper version of jQuery included. (note: this is not an error)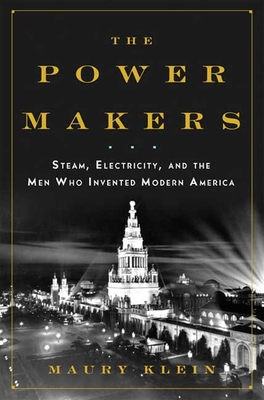 This item is not available.
Description
---
The dramatic story of the power revolution that turned America from an agrarian society into a technological superpower, and the dynamic, fiercely competitive inventors and entrepreneurs who made it happen--a riveting historical saga to rival McCullough's The Great Bridge or Larson's Thunderstruck.
Maury Klein, author of Rainbow's End: The Crash of 1929, is one of America's most acclaimed historians of business and industry. In The Power Makers, he offers an epic narrative of his greatest subject yet--the power revolution that transformed American life in the course of the nineteenth century.
The steam engine, the incandescent bulb, the electric motor--inventions such as these replaced backbreaking toil with machine labor and changed every aspect of daily life in the span of a few generations. The power revolution is not a tale of machines, however, but of men: inventors such as James Watt, Elihu Thomson, and Nikola Tesla; entrepreneurs such as George Westinghouse; savvy businessmen such as J.P. Morgan, Samuel Insull, and Charles Coffin of General Electric. Striding among them like a colossus is the figure of Thomas Edison, who was creative genius and business visionary at once. With consummate skill, Klein recreates their discoveries, their stunning triumphs and frequent failures, and their unceasing, tumultuous, and ferocious battles in the marketplace.
In Klein's hands, their personalities and discoveries leap off the page. The Power Makers is a dazzling saga of inspired invention, dogged persistence, and business competition at its most naked and cutthroat--a tale of America in its most astonishing decades.
About the Author
---
Maury Klein is the author of many books, including The Life and Legend of Jay Gould, Days of Defiance: Sumter, Secession, and the Coming of the Civil War, and Rainbow's End: The Crash of 1929. He is professor emeritus at the University of Rhode Island.
Praise For…
---
"Maury's Klein's The Power Makers allows us to step back and remind ourselves – and we do need reminding – that the past two centuries have been a period of extraordinary invention....Fascinating." —William Tucker, Wall Street Journal
"Klein's book reads like a fairy tale...Klein himself rarely fails to reach for the full significance of events. ('Every material achievement that would characterize civilization during the next two centuries began with the possibilities opened by the steam engine,' he writes of James Watt's invention.) The Power Makers is at once grandiloquent and granular. At technical descriptions, Klein excels. In explaining a disadvantage of Edison's direct current—the greater the current, the bigger the wire needed to conduct it—he offers this nifty illustration: 'to light Fifth Avenue from Fourteenth to Fifty-ninth Street, the conductors would have to be as large as a man's leg.' If you haven't given Boyle's law much thought since the Reagan revolution, reading Klein will reward you with an excellent course in heat, electricity, and magnetism, at very little cost to your composure." —Jill Lepore, The New Yorker
"Maury Klein's stories of heroic inventors creating the industrial revolution make the history of technology come alive." --Daniel Walker Howe, NBCC Award nominee for What Hath God Wrought: The Transformation of America, 1815-1848
"This well-oiled colossus of a book—its moving parts working together like a mighty machine—illuminates an epic period of national growth, when the country's first big carbon footprints were made on a march toward greatness and plenty." --Thomas Mallon, author of Henry and Clara, Bandbox, and Fellow Travelers.
"The Power Makers vividly and brilliantly reveals how the revolutions of steam and electricity, one facilitating the other, combined to reshape American society. Maury Klein tells a fascinating, heroic tale peopled by such giants as Thomas Edison, George Westinghouse, and J. P. Morgan, whose partnerships, subterranean deals, and marketplace battles redefined not just American commerce but the American landscape as well."—Edward J. Renehan Jr., author of Commodore: The Life of Cornelius Vanderbilt