The Beautiful Thing That Awaits Us All: Stories (Hardcover)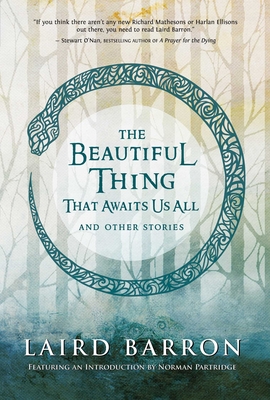 Description
---
Over the course of two award-winning collections and a critically acclaimed novel, The Croning, Laird Barron has arisen as one of the strongest and most original literary voices in modern horror and the dark fantastic. Melding supernatural horror with hardboiled noir, espionage, and a scientific backbone, Barron's stories have garnered critical acclaim and have been reprinted in numerous year's best anthologies and nominated for multiple awards, including the Crawford, International Horror Guild, Shirley Jackson, Theodore Sturgeon, and World Fantasy awards.

Barron returns with his third collection, The Beautiful Thing That Awaits Us All. Collecting interlinking tales of sublime cosmic horror, including "Blackwood's Baby," "The Carrion Gods in Their Heaven," and "The Men from Porlock," The Beautiful Thing That Awaits Us All delivers enough spine-chilling horror to satisfy even the most jaded reader.

Skyhorse Publishing, under our Night Shade and Talos imprints, is proud to publish a broad range of titles for readers interested in science fiction (space opera, time travel, hard SF, alien invasion, near-future dystopia), fantasy (grimdark, sword and sorcery, contemporary urban fantasy, steampunk, alternative history), and horror (zombies, vampires, and the occult and supernatural), and much more. While not every title we publish becomes a New York Times bestseller, a national bestseller, or a Hugo or Nebula award-winner, we are committed to publishing quality books from a diverse group of authors.
About the Author
---
Laird Barron: Laird Barron is the author of two collections: The Imago
Sequence, and Occultation. His work has appeared in
many magazines and anthologies. An expatriate Alaskan,
Barron currently resides in the wilds of Upstate New York.
Praise For…
---
WINNER OF THE BRAM STOKER AWARD FOR BEST FICTION COLLECTION
NOMINATED FOR THE WORLD FANTASY AWARD FOR BEST COLLECTION

"One of my favorite writers, period. ... one of the most unique and accomplished prose talents now working in America. He writes dangerous stories, in something I've described as like a cross between H.P. Lovecraft and James Dickey ... Very much like crack to my brain."
—Nic Pizzolatto, creator of HBO's True Detective

"If you think there aren't any new Richard Mathesons or Harlan Ellisons out there, you need to read Laird Barron."
—Stewart O'Nan, bestselling author of Wish You Were Here and Last Night at the Lobster

"Relentlessly readable, highly atmospheric, sharply and often arrestingly written—Barron's prose style resembles, by turns, a high-flown Jim Thompson mixed with a pulp Barry Hannah."
—Slate

"I've come to Laird Barron relatively late, but I'm adding him to my pantheon of greats (and I don't use that word lightly)."
—Adam Nevill, author of The Ritual

"The scariest writer on the planet has to be Laird Barron."
—Paul Goat Allen, The Barnes & Noble Book Blog

"Laird Barron has, in a remarkably short period of time, emerged as one of the leading writers of contemporary weird fiction."
—S. T. Joshi

"You could say these stories are what happens when Jack London and Zane Grey go drinking with William Hope Hodgson and Algernon Blackwood. But what they really are is Laird Barron, and they are terrifying and awe-inspiring. If you haven't yet tried his work, this is a great place to start."
—Brian Keene, author of The Rising

WINNER OF THE BRAM STOKER AWARD FOR BEST FICTION COLLECTION
NOMINATED FOR THE WORLD FANTASY AWARD FOR BEST COLLECTION

"One of my favorite writers, period. ... one of the most unique and accomplished prose talents now working in America. He writes dangerous stories, in something I've described as like a cross between H.P. Lovecraft and James Dickey ... Very much like crack to my brain."
—Nic Pizzolatto, creator of HBO's True Detective

"If you think there aren't any new Richard Mathesons or Harlan Ellisons out there, you need to read Laird Barron."
—Stewart O'Nan, bestselling author of Wish You Were Here and Last Night at the Lobster

"Relentlessly readable, highly atmospheric, sharply and often arrestingly written—Barron's prose style resembles, by turns, a high-flown Jim Thompson mixed with a pulp Barry Hannah."
—Slate

"I've come to Laird Barron relatively late, but I'm adding him to my pantheon of greats (and I don't use that word lightly)."
—Adam Nevill, author of The Ritual

"The scariest writer on the planet has to be Laird Barron."
—Paul Goat Allen, The Barnes & Noble Book Blog

"Laird Barron has, in a remarkably short period of time, emerged as one of the leading writers of contemporary weird fiction."
—S. T. Joshi

"You could say these stories are what happens when Jack London and Zane Grey go drinking with William Hope Hodgson and Algernon Blackwood. But what they really are is Laird Barron, and they are terrifying and awe-inspiring. If you haven't yet tried his work, this is a great place to start."
—Brian Keene, author of The Rising