The Women of Christmas: Experience the Season Afresh with Elizabeth, Mary, and Anna (Hardcover)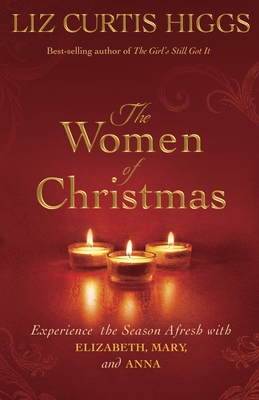 $14.99

Usually arrives at our store within 4-7 days
Description
---
God Reached Down from Heaven with the Best Gift of All
 
A sacred season is about to unfold for three women whose hearts belong to God.
Elizabeth is barren, yet her trust in God remains fertile. Mary is betrothed in marriage, yet she is willing to bear God's Son. Anna is a widow full of years, yet she waits patiently, prayerfully for the Messiah to appear in the temple courts.

Following in their footsteps, you too can prepare for the Savior to enter your heart, your mind, and your life in a vibrant, new way. Best-selling author Liz Curtis Higgs explores the biblical stories of Elizabeth, Mary, and Anna, unwrapping each verse with tender care and introducing you afresh to The Women of Christmas.
About the Author
---
Liz Curtis Higgs is a popular conference speaker, who has presented inspirational programs for audiences in all fifty United States and fourteen foreign countries. She is also the author of more than thirty books, with 4.5 million copies in print, including her nonfiction study of Ruth, The Girl's Still Got It, her best-selling series, Bad Girls of the Bible, Really Bad Girls of the Bible, Unveiling Mary Magdalene, and Slightly Bad Girls of the Bible, her award-winning Scottish historical novella, A Wreath of Snow; and a series of children's books, including The Pine Tree Parable.
Liz is happily married to Bill Higgs, who serves as director of operations for her speaking and writing office. They share their life together in a nineteenth-century farmhouse near Louisville, Kentucky.
Praise For…
---
CBA bestseller
ECPA bestseller

Praise for The Women of Christmas

"Breathtaking! The Women of Christmas is tender and joy filled and funny and faithful. With genuine warmth, profound wisdom, and refreshing wonder, Liz Curtis Higgs offers up a perfect seasonal blend—just what every woman in the midst of Christmas needs. I savored every word."
—Ann Voskamp, author of the New York Times bestseller One Thousand Gifts: A Dare to Live Fully Right Where You Are

"Liz Curtis Higgs ably mines the Scriptures, revealing undiscovered treasures in the familiar story. Through the pages of this powerful little book, we get to peer into the hearts of these women and find our own hearts melting at the beauty of God's grace."
—Nancy Guthrie, author of the Bible study series Seeing Jesus in the Old Testament

"This season delight your friends with an early gift of The Women of Christmas, inviting them to see how Elizabeth, Mary, and Anna were part of God's great plan to rescue us. As Liz puts it, 'Never doubt for a moment that women matter to the Almighty.'"
—Dee Brestin, author of Idol Lies: Facing the Truth About Our Deepest Desires

"The Women of Christmas invites us to steal away with our Savior during the hustle and bustle of one of the busiest seasons of the year. In her warm and welcoming voice, Liz Curtis Higgs draws us into the compelling stories of the women who surrounded our Messiah's birth and encourages us to consider our own relationship with him. An inspirational and biblically rich devotional. What a wonderful way to experience Christmas!"
—Kelly Minter, author of Nehemiah: A Heart That Can Break