Mock Trials (Paperback)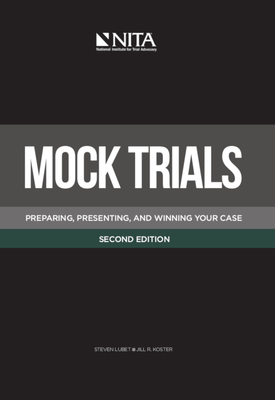 This item is not available.
Description
---
A mock trial may officially begin with opening statements, but experienced competitors know that the dialogue between counsel and the court beforehand can make or break their chances of prevailing. In this new edition of Mock Trials the authors have added an entire new chapter (Pretrial Matters) to explain the questions students should ask before a mock trial begins and why the answers to those questions are important. Just as in an actual trial, pre-trial matters do matter in mock trials because they can affect nearly every aspect of case preparation and presentation. First published in 2000, Mock Trials has become the leading textbook used by students and coaches to prepare for mock trial competitions. The Second Edition improves upon the first by providing students and coaches at every level with a complete step-by-step guide to preparing, presenting, and winning a mock trial. Diagrams, charts and summaries, as well as sample fact scenarios, colloquies, and arguments, are used to explain complicated concepts simply in an easy-to-follow and interesting manner. This textbook is specifically designed for use by pre-law and law students, but the legal and stylistic techniques it teaches remain applicable throughout lawyers' careers. For high school and undergraduate students competing in mock trials or considering a career in law, Mock Trials gives a solid overview of the conduct of a trial from start to finish. It's also perfect for mock trial coaches to use as a how-to guide.