China's Lost Imperial Garden: The World's Most Exquisite Garden Rediscovered (Hardcover)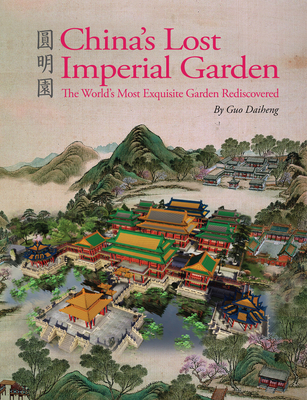 Description
---
Built in 1707, the Old Summer Palace (Yuan Ming Yuan) is a masterpiece integrating the classic garden-building arts of China. It is reputed as the "Garden of all Gardens," due to its rich and incomparable landscaping. The beautiful and expansive gardens were known to the world, and triggered the craze of Chinese gardens in 18th century Europe. Victor Hugo, one of the best and greatest known French writers, described it as "Achievements generated from the imagination of a super nation." The Old Summer Palace was also the second political center in addition to the Forbidden City in the Qing Dynasty (1636–1911). Five emperors chose the Old Summer Palace as their venue for administrative governance. They felt it expressed an ideal of state governing and an appeal of aesthetics. Meanwhile, it was the base for turning out important national policies while serving as an important venue for the exchange between Chinese and foreign envoys. Having gone through a span of over 150 years, the Old Summer Palace reflects the history of the rise and fall of the Qing Dynasty.
Deserving its honor as the largest royal art museum, the Old Summer Palace contained calligraphic works and paintings of many noted artists, numerous rarities such as secret and valuable books, ancient bells, tri-pots, precious articles, gold and silver wares, jewelry and jade as well as rare flowers and trees of that time. In 1860, the Old Summer Palace was destroyed by British-French Allied Forces and all the collections inside were looted, resulting in a terrible disaster in the history of international culture. Today, the Older Summer Palace represents an important piece of cultural history for human civilization.
At the end of the 20th century, Guo Daiheng, the author of this book, led over 80 experts, scholars and professionals in starting a project of Digital Reconstruction of the Old Summer Palace, an unprecedented task in the history of international historic parks. Over the past 15 years, the project has included an orderly development in 3D molding, digital restoration, and digital experience. Scenes of the Old Summer Palace in this book are the exact results from a digitalized Old Summer Palace, which reveals the magnificence of the garden in its prime.
About the Author
---
As a graduate from Qinghua University in 1960, Guo Daiheng was a student of Professor Liang Sicheng. She is now a professor and PhD tutor of Tsinghua University, the first-grade national registered architect, and concurrently the director of Beijing Old Summer Palace Research Society. She has won such awards as the First Class Award of the National Natural Science Awards and the Grand Architectural Creation Award.
She has had over 70 academic papers published in China and abroad, in addition to having completed more than 10 academic works such as The History of Ancient Chinese Architecture, Illustration of Model Houses—the Heritage and Memory of the Old Summer Palace, and The Royal Old Summer Palace under the Reign of Qianlong Emperor.