Zen Mind, Zen Horse: The Science and Spirituality of Working with Horses (Paperback)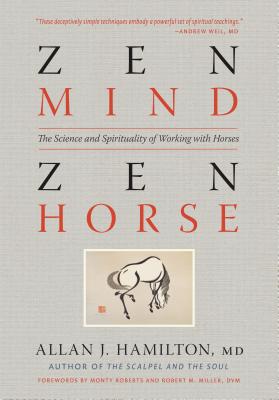 $24.95

Usually arrives at our store within 4-7 days
Description
---
Eastern philosophy enters the stables in this unique guide to horsemanship. Allan Hamilton describes how horses understand and respond to the flow of vital energy around them. They use this energy, called chi, to communicate with their herd, express dominance, and sense predators. Hamilton shares safe, simple techniques to make you more receptive to your animal's chi, so you can develop a calm and effective training style that will not only help your horse follow commands, but strengthen the spiritual bond between horse and rider. 
About the Author
---
Allan J. Hamilton, MD, is a Harvard-trained brain surgeon, a renowned horse trainer, a developer of equine-assisted learning programs, and the author of Lead with Your Heart and Zen Mind, Zen Horse (Gold Nautilus Award winner). He is a professor of neurosurgery at the University of Arizona and a medical script consultant for the hit television series Grey's Anatomy. He raises Lipizzan horses on a small ranch on the outskirts of Tucson, Arizona.
 
Praise For…
---
Combining brain science, horse sense, and fine storytelling, this spiritual handbook points toward a special and completely real form of enlightenment.—Andrew Weil, MD, Author, Eight Weeks to Optimum Health

Zen Mind, Zen Horse is far more than a book about how to care for a horse, though it stands out as one of the best on the subject. Rather, Hamilton has given humans a way to achieve our highest good by allowing horses to be our guides. This beautiful testament to the power and magic of equine energy captures the soul of a horse perfectly.

Zen Mind, Zen Horse is both practical and profound, offering sound advice for tapping the wisdom of horses as natural mindfulness teachers.

These deceptively simple techniques embody a powerful set of spiritual techniques.