The Landscapes of Anne of Green Gables: The Enchanting Island that Inspired L. M. Montgomery (Hardcover)
×
Warning message
Mean Menu style requires
jQuery
library version 1.7 or higher, but you have opted to provide your own library. Please ensure you have the proper version of jQuery included. (note: this is not an error)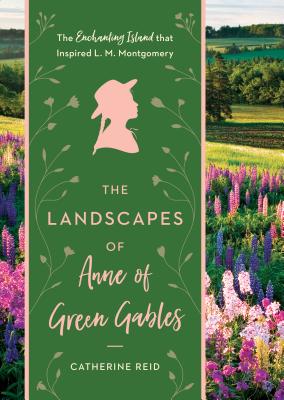 Description
---
One of Smithsonian magazine's Best Books About Travel of 2018

The Landscapes of Anne of Green Gables explores L. M. Montgomery's deep connection to the landscapes of Prince Edward Island that inspired her to write the beloved Anne of Green Gables series. From the Lake of Shining Waters and the Haunted Wood to Lover's Lane, you'll be immersed in the real places immortalized in the novels.

Using Montgomery's journals, archives, and scrapbooks, Catherine Reid explores the many similarities between Montgomery and her unforgettable heroine, Anne Shirley. The lush package includes Montgomery's hand-colorized photographs, the illustrations originally used in Anne of Green Gables, and contemporary and historical photography.
About the Author
---
Catherine Reid has taught at a number of different schools, most recently at Warren Wilson College, in Asheville, North Carolina, where she served as director of the creative writing program and specialized in creative nonfiction and environmental writing. In addition to two works of nonfiction, Falling into Place and Coyote, she has published essays in such journals as the Georgia Review, Fourth Genre, Bellevue Literary Review, and Massachusetts Review. She has been a creative writing fellow at the American Antiquarian Society in Worcester, Massachusetts, and the Virginia Center for the Creative Arts and has received fellowships in creative nonfiction from the North Carolina Arts Council and the National Endowment for the Arts. She lives and gardens in the mountains of western North Carolina.
Praise For…
---
"This book will be treasured by Montgomery's legions of fans." —Carolyn Strom Collins, author of The Anne of Green Gables Treasury; editor of After Many Years: Twenty-one "Long-Lost" Stories by L. M. Montgomery 

"I love reading little bits about L. M. Montgomery that coincide with Anne's life. . . . This will be a welcome keepsake in my home." —Bridget Beth Collins, creator of Flora Forager

"There's something deeply satisfying about seeing gorgeous pictures of sunsets, shores, and gardens alongside snippets of Montgomery's musical, flowery prose. Reid's love letter to Anne of Green Gables, Montgomery, and Prince Edward Island is sure to delight. Anne enthusiasts will learn more about what inspired Montgomery, while nature lovers will find a kindred spirit in Reid, who clearly has a passion for all things green and growing." —Booklist starred review

"This is not just a book filled with beautiful photos; it's a satisfyingly rich and layered combination of the visual and intellectual. Readers will gain a new appreciation not only for Montgomery but also for the landscape that meant so much to her." —Library Journal

"In L. M. Montgomery's beloved book, Anne of Green Gables, Prince Edward Island, Canada, played a role that is arguably just as important as the series' protagonist, Anne Shirley. Wanting to bring the island to life years later, author Catherine Reid explores the very places that inspired Montgomery and became immortalized in her prose." —The Smithsonian Magazine

"Evocative. . . . compelling. . . . The Landscapes of Anne of Green Gables is a sweet book. . . for those who wish to take a visual journey through PEI or learn more about a beloved childhood book." —NYBG's Plant Talk

"Wait until you see the real Prince Edward Island. This lush, vivid, and beautifully executed book takes you to all the storied locations. Having walked these in person, I can vouch for this book's authenticity." —Book Riot

"Whether you read the Anne saga growing up (particularly popular with young girls) or are brainstorming now for a summer vacation jewel, this new The Landscapes of Anne of Green Gables is certain to delight. Author Catherine Reid exuberantly jumped into Montgomery's archives—her journals, scrapbooks, photographs—to create this lush tribute to Montgomery, Green Gables and PEI. It is graced with positive quotes, poems and anecdotes; festooned with fascinating history; dressed in scores of images from yesteryear and today. . . . Reid herself deserves ample applause for this wet-kiss, well-crafted ode to all that makes Prince Edward Island and its most esteemed native resonate with readers and visitors. Oh, Canada!" —Forbes

"For a book with so many gorgeous pictures, it is also a delightful read. Reid's writing never feels like it's merely 'copy' used to occupy space between photos. This book is every bit an illuminating biography of L.M. Montgomery as it is an environmentally minded photo-history of Prince Edward Island." —Citizen Times

"A wonderful companion to L.M. Montgomery's classic. . . . Montgomery's love for the land and for gardening shines forth in this book." —The Gettysburg Times

"For readers looking for a deeper understanding of the book, the author, and how they both came together to create a timeless classic, this is a must-read. Filled with beautiful colour images and original illustrations from the book's 1908 edition, The Landscapes of Anne of Green Gables is an easy, enjoyable read, but it is packed with much more fascinating information than your average coffee-table book. . . . readers are prompted to reflect on how the landscapes of their worlds speak to their own internal lives." —The Cardinal Press

"You will be immersed into the real locations that inspired her novels . . . Fans young and old will be delighted with this beautifully inspired book." —The Tribune Chronicle 

"If you are a lover of the Anne of Green Gable books, you must read The Landscapes of Anne of Green Gables. . . . Reid's book is scholarly, yet has an intimacy that made me feel even more connected to both Montgomery and Anne Shirley." —Cultivating Wonder

"A beautiful book!" —The Shining Scroll of the L.M Montgomery Literary Society

"Liberally sprinkled with quotes from Montgomery's books and journals...filled with beautiful photographs."—The Greenfield Recorder



 

"This book will be treasured by Montgomery's legions of fans." —Carolyn Strom Collins, author of The Anne of Green Gables Treasury; editor of After Many Years: Twenty-one "Long-Lost" Stories by L. M. Montgomery 

"I love reading little bits about L. M. Montgomery that coincide with Anne's life. . . . This will be a welcome keepsake in my home." —Bridget Beth Collins, creator of Flora Forager

"There's something deeply satisfying about seeing gorgeous pictures of sunsets, shores, and gardens alongside snippets of Montgomery's musical, flowery prose. Reid's love letter to Anne of Green Gables, Montgomery, and Prince Edward Island is sure to delight. Anne enthusiasts will learn more about what inspired Montgomery, while nature lovers will find a kindred spirit in Reid, who clearly has a passion for all things green and growing." —Booklist starred review

"This is not just a book filled with beautiful photos; it's a satisfyingly rich and layered combination of the visual and intellectual. Readers will gain a new appreciation not only for Montgomery but also for the landscape that meant so much to her." —Library Journal

"In L. M. Montgomery's beloved book, Anne of Green Gables, Prince Edward Island, Canada, played a role that is arguably just as important as the series' protagonist, Anne Shirley. Wanting to bring the island to life years later, author Catherine Reid explores the very places that inspired Montgomery and became immortalized in her prose." —The Smithsonian Magazine

"Evocative. . . . compelling. . . . The Landscapes of Anne of Green Gables is a sweet book. . . for those who wish to take a visual journey through PEI or learn more about a beloved childhood book." —NYBG's Plant Talk

"Wait until you see the real Prince Edward Island. This lush, vivid, and beautifully executed book takes you to all the storied locations. Having walked these in person, I can vouch for this book's authenticity." —Book Riot

"Whether you read the Anne saga growing up (particularly popular with young girls) or are brainstorming now for a summer vacation jewel, this new The Landscapes of Anne of Green Gables is certain to delight. Author Catherine Reid exuberantly jumped into Montgomery's archives—her journals, scrapbooks, photographs—to create this lush tribute to Montgomery, Green Gables and PEI. It is graced with positive quotes, poems and anecdotes; festooned with fascinating history; dressed in scores of images from yesteryear and today. . . . Reid herself deserves ample applause for this wet-kiss, well-crafted ode to all that makes Prince Edward Island and its most esteemed native resonate with readers and visitors. Oh, Canada!" —Forbes

"For a book with so many gorgeous pictures, it is also a delightful read. Reid's writing never feels like it's merely 'copy' used to occupy space between photos. This book is every bit an illuminating biography of L.M. Montgomery as it is an environmentally minded photo-history of Prince Edward Island." —Citizen Times

"A wonderful companion to L.M. Montgomery's classic. . . . Montgomery's love for the land and for gardening shines forth in this book." —The Gettysburg Times

"For readers looking for a deeper understanding of the book, the author, and how they both came together to create a timeless classic, this is a must-read. Filled with beautiful colour images and original illustrations from the book's 1908 edition, The Landscapes of Anne of Green Gables is an easy, enjoyable read, but it is packed with much more fascinating information than your average coffee-table book. . . . readers are prompted to reflect on how the landscapes of their worlds speak to their own internal lives." —The Cardinal Press

"You will be immersed into the real locations that inspired her novels . . . Fans young and old will be delighted with this beautifully inspired book." —The Tribune Chronicle 

"If you are a lover of the Anne of Green Gable books, you must read The Landscapes of Anne of Green Gables. . . . Reid's book is scholarly, yet has an intimacy that made me feel even more connected to both Montgomery and Anne Shirley." —Cultivating Wonder

"A beautiful book!" —The Shining Scroll of the L.M Montgomery Literary Society

"Liberally sprinkled with quotes from Montgomery's books and journals...filled with beautiful photographs."—The Greenfield Recorder