Browsings (Hardcover)
×
Warning message
Mean Menu style requires
jQuery
library version 1.7 or higher, but you have opted to provide your own library. Please ensure you have the proper version of jQuery included. (note: this is not an error)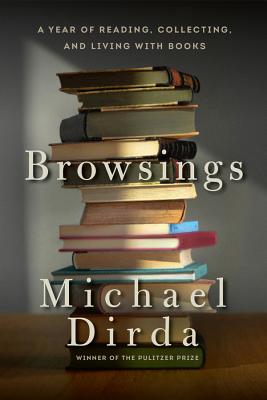 Description
---
Journalist Michael Kinsley has described Michael Dirda as "the best-read person in America," then added "but he doesn't rub it in." Michael M. Thomas called him, in the New York Observer, "the best book critic in America." Nevertheless, no one named Michael was involved when Dirda was awarded the Pulitzer Prize for his reviews in the Washington Post or when his recent book, On Conan Doyle, picked up an Edgar award from the Mystery Writers of America. Dirda's latest volume collects fifty of his poignant and puissant essays about "the literary life." The result is a celebration, a fan's notes, the perfect gift for any booklover or for one's own bedtime browsing. For readers who admire Janet Flanner, Joseph Mitchell, Edmund Wilson and M.F. K. Fisher, this volume is the ideal literary companion. As admirers of his earlier books will expect, there are annotated lists galore—of perfect book titles, great adventure novels, favorite words, essential books about books, beloved children's classics, and, not least, a revealing peek at the titles Michael keeps on his own nightstand.
About the Author
---
Michael Dirda is a Pulitzer Prize-winning critic and longtime book columnist for The Washington Post. He was once chosen byWashingtonian Magazine as one of the twenty-five smartest people in our nation's capital (but, as Michael says, you have to consider the competition). He also writes regularly for the Times Literary Supplement;the New York Review of Books and other literary journals. His previous publications include the memoir An Open Book, four collections of essays—Readings, Bound to Please, Book by Book, and Classics for Pleasure—and On Conan Doyle, for which he won an Edgar Award. A lifelong Sherlock Holmes and Conan Doyle fan, he was inducted into The Baker Street Irregulars in 2002. He lives in Silver Spring, Maryland.
Praise For…
---
This
joy-filled, reflective collection makes perfect bedside reading. Literate
but never snobby, this collection of essays surely will entertain and
enlighten book lovers of all stripes.

Browsings is as much about living with books, about serendipitous discovery, as about the boundless pleasures of reading. Dirda's comradely essays are unfailingly informative and amusing, punctuated with poignant asides on the aging artist and paeans to great literary scholars. His almost single-minded passion, the exhilaration of a life in literature, glows on every page. 


Beyond bibliophilism, this is a work about how
reading stories builds relationships—between readers and writers and between
readers and readers—and how these relationships change and shape one's life.
Dirda's exuberance is infectious, and the book is hard to put down. Clearly
this author recognizes that the most important quality of a book is the
pleasure it gives.

A
rambunctious personality wanders the aisles of rare-book stores; musing about
language, aging and traffic; and catching up with fellow aficionados of the
weird and the obscure. The innumerable forgotten books he catalogs are
captivating.

A set of appealingly conversational meditations on
the life of the mind. The author's personality is so vivid and immediate that a
readerly rapport is established almost instantly. The hallmarks of the Dirdanian
sensibility includes a wry, slightly avuncular tone that wears its erudition
slightly, a pronounced interest in genre fiction, and a sturdy sort of
common-sense approach to critical theory, all with a light dusting of loveable
curmudgeon and a sprinkle of raffish boulevardier. Cheerfully eccentric, Dirda
eschews the lofty pronouncement of Olympian judgment, preferring instead a hale
and friendly exploration of shared enthusiasm.

Dirda's enthusiasm is manifest, and his knowledge is often impressive. Dirda's first-person voice and confessional zeal make him an easy author to like.

Michael Dirda is one of the great book reviewers of
our age. It is not merely that his writing is so lucid and intelligent or that his taste is so inclusive but
discerning. The key to his particular magic is that he is always alert to the
complex pleasures that animate
literature. His engaging essays are those of a restless, omnivorous reader and
a true bookman.
— Dana Gioia, poet and former chair of the National Endowment for the Arts

If we were all to write about reading as Dirda does, if we taught children to write from joy rather than to form arguments, then the world would have many more serious readers and far better books.

Elegantly
written musings about calligraphy, writer's block, genre conferences, the books
on a given critic's nightstand, with the odd personal reminiscence thrown in.

The 52 pieces collected in Browsings shine with Dirda's passion for books, both as a reader and a collector, and are certain to delight any bibliophile. They reveal the mind of a critic with an astonishing breadth of literary knowledge and a talent for sharing that learning in accessible, often humorous, prose.


Smart
but not stuffy, critical but not carping, self-engaged but not self-absorbed.
Dirda's intellect is a brightly populated curio cabinet, containing topics as
varied as Samuel Johnson's cat, the art of the perfect book title, the decline
of penmanship and the distress of writer's block.

Michael Dirda, bookman extraordinaire, has elevated
the indulgent pleasures of browsing to the quality of high art. A marvelous
collection for serious book lovers, common readers and all of us who take a
guilty delight in the gossip of literature.
— Alberto Manguel, author of 'A History of Reading'

Pleasure,
provocation, passion — just some of the words that came to my mind and through
my heart as I perused this book. A reunion with the old forgotten
favorite books and an introduction to some dazzling new ones, this is a book to
go to bed with, to wake up to, and to browse through in between.
— Azar Nafisi, #1 'New York Times' bestselling author of 'Reading Lolita in Tehran' and 'The Republic of Imagination'

In remembering and reflecting upon his own first excitements as a reader, Dirda is infectious.
— Larry McMurtry

It's
awfully refreshing, in this Age of Noise, to know that there are still critics
like Michael Dirda reading the pages of books old and new. These 52 essays
showcase Dirda's remarkable range of fancy and his indomitable and unabashed
joyfulness in the memory of his own reading life. For all their intelligence,
these essays are not pedantic. Rather, they have a sort of plain-spoken
elegance about them, one that relies more on a generosity of feeling than on an
excess of intellect. Dirda shows that he's one of the most accessible critics
still doing the good work.

Dirda
is required reading. Dirda wonderfully
captures how this particular browsing very nearly approximates paradise.

A
valentine to people who love reading and books. Dirda is gently
self-deprecating about his writing and enthusiasms, but his humility is
contradicted by his huge roster of literary acquaintances, vast knowledge of
both popular and literary fiction, and omnivorous tastes as a reader.

Bibliophiles, bibliomaniacs and bibliophagists will love Browsings. The essays are highly personal, occasionally curmudgeonly, always self-effacing, uniformly informative, sometimes politically lefty, unfailingly affecting. Emily Dickinson famously wrote, 'There is no frigate like a book.' In Browsings, Michael Dirda has constructed a sturdy vessel transporting us to shores that surprise, delight and educate.


A
witty, informative and amusing book, filled with small treasures of insight
that booklovers will retain as a roadmap to future reading adventures. A book
that I know I will keep in my collection and enjoy for years to come.

Quite simply, Dirda loves books, possibly more than anyone else in the world, and he can make the reader feel that love. Reading Browsings is an unusually joyful endeavor.


Ranging
in tone from intellectual to sentimental and amusing to poignant, Dirda's
vignettes celebrate bibliophilia in all its glory. A literary smorgasbord.
There is much to savor between these pages.

As much about a passion for collecting and living with books, about chance discoveries and recoveries of the forgotten, as it is about the inestimable pleasures of reading. Dirda may be as well read as anyone alive.

A brief, elegant reflection. For so many years Dirda has been such an insightful guide to literatures past and present.
— Nick Owchar

The essays of Browsings can often read like (a particularly eloquent and charmingly cordial) fanboy's ruminations. The friendly, affable Dirda within its pages is enjoyable.


Dirda
on literature, whether highbrow or low, is riveting. If there is a young person
out there who thinks he would like to have books as a presence in his life: You
should buy this volume right away, and learn, with delight, how much more you'd
like to know.

Charming.