Pride and Platypus: Mr. Darcy's Dreadful Secret (Paperback)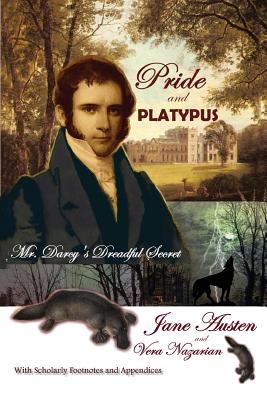 $28.95

Usually arrives at our store within 4-7 days
Description
---
From the author of NORTHANGER ABBEY AND ANGELS AND DRAGONS...
PRIDE AND PLATYPUS: Mr. Darcy's Dreadful Secret
When the moon is full over Regency England, all the gentlemen are subject to its curse.
Mr. Darcy, however, harbors a Dreadful Secret...
Shape-shifting demons mingle with Australian wildlife, polite society, and high satire, in this elegant, hilarious, witty, insane, and unexpectedly romantic supernatural parody of Jane Austen's classic novel.
The powerful, mysterious, handsome, and odious Mr. Darcy announces that Miss Elizabeth Bennet is not good enough to tempt him. The young lady determines to find out his one secret weakness -- all the while surviving unwanted proposals, Regency balls, foolish sisters, seductive wolves, matchmaking mothers, malodorous skunks, general lunacy, and the demonic onslaught of the entire wild animal kingdom
What awaits her is something unexpected. And only moon, matrimony, and true love can overcome pride and prejudice
Gentle Reader -- this Delightful Illustrated Edition includes Scholarly Footnotes and Appendices.